If you need help with an iPhone, iPad, Mac or other Apple product–whether it's broken or faulty, or you just can't figure out how to do something with it–the company will help you solve the issue. Apple says many problems can be solved over the phone or by chat or email, but one thing that sets it aside from other companies is its willingness to offer hands-on support from in-store Apple Geniuses.
You can speak to a Genius at the Genius Bar in an Apple Store. But in order to do so you will need to book an appointment with Apple in advance–you can't just show up. (Well, there are a limited number of walk-in appointments available and they might be able to squeeze you in, but it's likely you would have to wait for hours and you might have a wasted journey.)
In this article, we show you how to set up an appointment with a Genius at an Apple Store. But note that many questions can be answered using Apple's online tools, by phoning Apple Support, by asking in the Apple Support Communities, or by tweeting at @AppleSupport.
How to book an Apple Store appointment online
To make an appointment with a Genius at an Apple Store (which is free), go to the Genius Bar page on Apple's website (here are the links to the U.S., U.K., Canada, and Australia.) This page provides details for getting help via chat, a phone call, or email if your problem is software-based. Keep in mind that you will need to log in with your Apple ID to schedule an appointment or use other sections of the support site.
For those who can't get to an Apple Store, the Genius Bar site can direct you to Apple Authorized Service Providers and information about posting your device to an Apple Repair Center.
If you're keen to get hands-on support with your hardware issues via the Genius Bar, you will need to scroll down on the Genius Bar page and click on Get Hardware Help.
You'll be presented with various options, such as Send in for Repair, in which case Apple will send you a box and you send it back. This might be okay if you can live without your device for a few days, but let's face it: most people can't do without their Apple equipment, and that's why the idea of taking it into the store to be fixed there and then by a Genius is so attractive.
We recommend speaking to Apple by phone or chat if possible, as this might save you a lot of time, but if you feel that addressing the problem in person would be better for you, it's possible to organize an Apple Store appointment. Just click on the Visit the Genius Bar option.
In order for you to make a booking, you'll need to sign into your Apple account. Once you're logged in, enter your location and Apple will show you a map with pins where Apple Stores are located. You can then pick the one closest to you, or the one with the most or soonest appointments available.
You'll be able to see the store's next available time slot for you to see an Apple Genius.
Click on the time you wish to book and your appointment will be confirmed automatically. You'll then be able to confirm your booking (or reschedule and cancel it) through the following screen.
Before popping into a store, make sure you read the tips in the "Before you come in" section; backing up your device is always recommended. It will also be useful for you to bring a photo ID with you, which matches your reservation name.
Once you're set, all you'll need to do is turn up at your appointment time and tell a Genius that you've arrived!
Fancy yourself a bit of an Apple Genius? Read How to get a job working as an Apple Store Genius.
Use the Apple Support app to book an Apple appointment
You can also use the Apple Support app to book an appointment at an Apple Store. To do this, download and launch the Apple Support app.
Once you're in the app, you will be asked to allow the app to use your location. If you tap Don't Allow, you will have to provide location information manually. Make your selection, and then tap Continue.
Tap Search at the top. An expanded search page will appear. Type "Genius" in the box and then select one of the Genius Bar results that appear. This will take you to the Genius Bar section where you can make an appointment.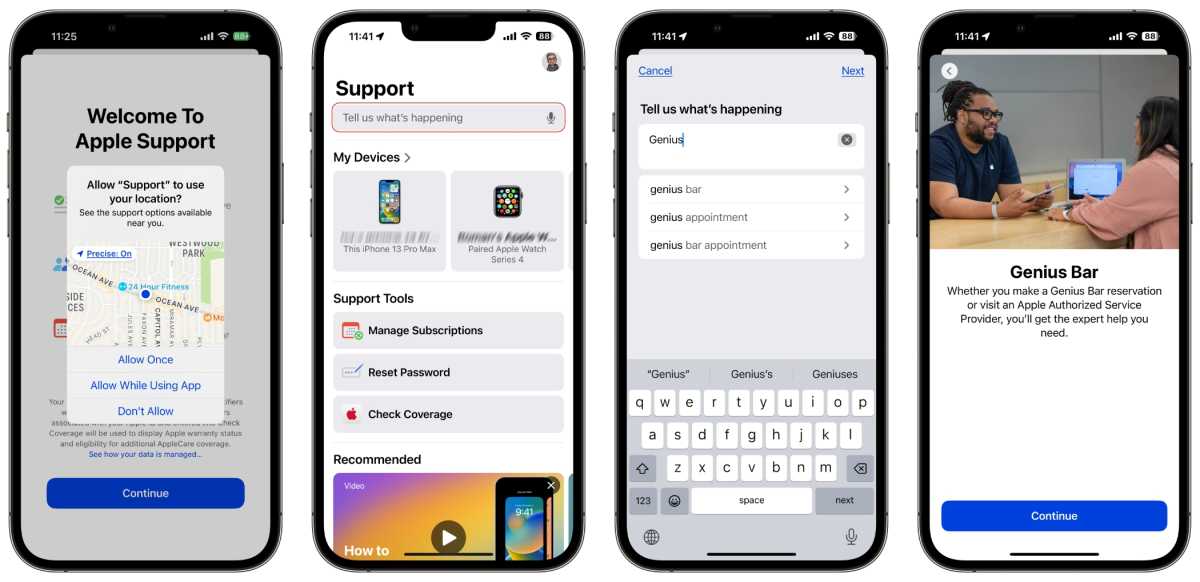 Foundry
When you get to the Apple Store at the time of your appointment, you can use the Apple Store app on your iPhone to check in and let the staff know you've arrived.