The biggest shopping day of the year is Black Friday – which in 2023 will fall on Friday November 24. We expect to see some great discounts on Apple products from various Apple resellers throughout November, but the real sales don't start until late Thanksgiving and they run all the way through till Cyber Monday (November 27).
If you are looking for a deal on a new Apple product you may be wondering whether to wait for Apple's Black Friday sale, or to take advantage of a deal from elsewhere.
We find the best deals are from resellers rather than Apple itself, and we track them all so we can help you find the best deals on Apple products including the Apple Watch, MacBooks, iPhones, AirPods and iPads. You can peruse our individual round ups of the best deals for Black Friday to find a bargain. We also monitor deals all year round, show casing the best Apple deals every month.
But what of Apple? Will Apple hold a Black Friday sale in 2023? We wish they would, but unfortunately, Apple's Black Friday deal is likely to be – as usual – a giveaway of gift cards with certain purchases.
Black Friday 2023: Will Apple have a sale?
For Black Friday 2022 Apple gave customers Apple Gift Cards with the purchase of eligible Apple products. While the qualifying products and voucher amounts change every year, this is Apple's only deal – Apple doesn't discount its own products for Black Friday or Cyber Monday.
Details of Apple's Black Friday Shopping Event can be found on Apple's website.
What was Apple's Black Friday deal in 2022?
During the four-day shopping event for 2022 – which ran from Black Friday to Cyber Monday (November 25-28 2022) customers were be able to 'save' as much as $250/£250 on a new Apple product thanks to the gift vouchers that Apple will be giving away. For example, you could purchase a new 14-inch MacBook Pro and use your $250/£250 voucher to get the AirPods Pro 2nd generation for 'free'.
Unfortunately Apple doesn't offer vouchers with every product it sells. Notably absent from the 2022 line up were new products such as the iPhone 14 series, Apple Watch 8 and Ultra, iPad 10th generation, and the 2022 iPad Pro models.
In 2022 Apple offered gift cards with purchases of the following products:
$25/£25 Apple Gift Card: AirPods 3rd generation with Lightning case, MagSafe Duo Charger, Apple Pencil 2nd Generation, Smart Folio Keyboard
$30/£30 Apple Gift Card: iPad 9th Gen
$50/£50 Apple Gift Card: iPhone 13, iPhone 13 mini, iPhone SE, iPhone 12, iPad mini, iPad Air, Apple Watch SE, AirPods Pro 2nd Gen, Magic Keyboard for iPad Pro
$75/£75 Apple Gift Card: AirPods Max
$100/£100 Apple Gift Card: Mac mini
$150/£150 Apple Gift Card: M1 MacBook Air, M2 MacBook Air, iMac 24-inch
$200/£200 Apple Gift Card: M2 MacBook Pro 13-inch
$250/£250 Apple Gift Card: MacBook Pro 14-inch, MacBook Pro 16-inch
You can also get vouchers with Beats products:
$50/£50 Apple Gift Card: Studio3 Wireless, Solo3 Wireless, Powerbeats Pro, Fit Pro, Studio Buds
$25/£25 Apple Gift Card: Beats Flex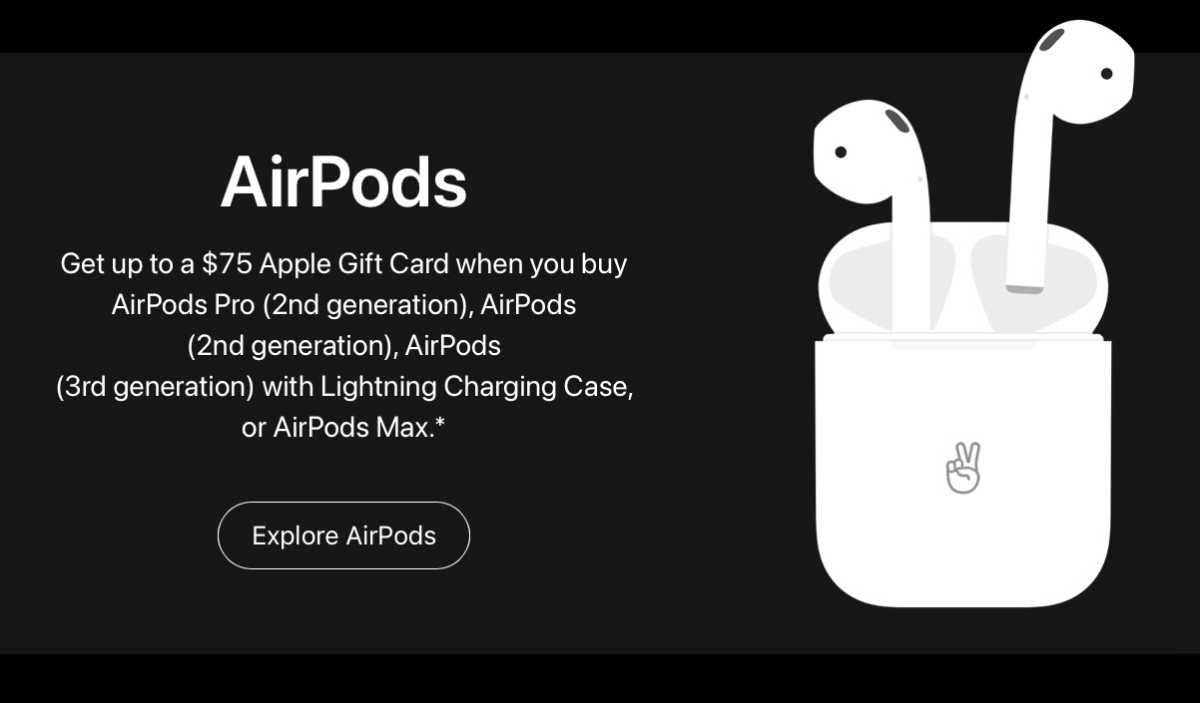 Apple
How good was Apple's 2022 Black Friday deal?
2022's deal actually went a little further than Apple's 2021's Black Friday offer. Although that depends on your perspective – you could also think that the Apple's Black Friday shopping event was somehow worse in 2022.
In 2021 the biggest Apple Gift Card on offer was for $200/£160, which was the saving offered with the sale of the 27-inch iMac (which was discontinued in 2022).
While the discounts on offer were generally a bit better than 2021, Apple didn't match the offers from other resellers such as Amazon. You can see some of the best offers we saw for Black Friday 2022 below.
Black Friday Apple deals
If you are curious to know what sort of savings we saw in 2021, here are the highlights. We'll start with the U.S. Apple deals from 2021, but if you are in the U.K. there are deals for you below the first section.
For all year round deals check out our round up of Best Apple deals we update every month.
U.S. deals
MacBooks
iMac and Mac mini
AirPods
Apple Watches (2022)
Apple Watches (Older)
iPads
iPhone accessories
Apple TV
Accessories
U.K. deals
MacBooks
iMac & Mac mini
AirPods
iPads
Apple Watch
iPhone
Accessories
Black Friday 2023: Best deals for Apple products
Check out these roundups for the best Apple deals
Best Black Friday 2023 Apple deals
Best Black Friday 2023 MacBook deals
Best Black Friday 2023 Mac Deals
Best Black Friday 2023 AirPods deals
Best Black Friday 2023 Apple Watch deals
Best Black Friday 2023 iPad deals
Best Black Friday 2023 iPhone deals
Best Black Friday 2023 Apple TV deals
Best Black Friday 2023 Mac monitor deals
Best Black Friday 2023 SSD and external hard drive deals
Black Friday 2023: When do the sales begin?
Black Friday officially begins at 12.01am on the day after Thanksgiving, which in 2023 will be Friday November 24. However, many sales begin well before that, in 2022 we saw deals starting at the beginning of November. The main event runs through the weekend and concludes on Cyber Monday – which is November 27 in 2023.
Black Friday 2023: What Apple products will be on sale?
No matter which Apple product you're looking for, you'll be sure to find it on sale during Black Friday weekend. But there are a few caveats. We don't expect to see huge deals on the newest Apple products – so you definitely won't find the latest Apple Watches and iPhones discounted.
But other products could reach all-time low prices. In 2022 we saw the price of the 14-inch and 16-inch MacBook Pro drop by $400, but for Black Friday/Cyber Monday we even saw $500 off at Amazon.
Black Friday 2023: Where to get the best deals
Spotting a good Black Friday deal takes a bit of work but we'll be doing most of it for you. Throughout Black Friday weekend, we'll be posting deal roundups and calling out specific sales that are worth checking out. Stay tuned to Macworld as we call out the best—and worst—deals all throughout the weekend. These are the retailers that are most likely to have the best prices:
U.S.
U.K.
Black Friday: Should I wait for Cyber Monday to purchase?
While it's always possible that a better deal is waiting around the corner, if you see a good deal, don't wait. While Cyber Monday promises impressive deals, prices are usually lowest on Black Friday. Plus there's always the risk that the Apple device you want sells out and you miss out on the great deal everyone else got.