Reports in August 2023 suggested that the batteries in the iPhone 14 generation had depleted faster than expected, with people reporting reduced battery health by up to 10%.
People wouldn't even know that their batteries had depleted if Apple didn't give them this information–which is something it was forced to do a few years ago after the 'Batterygate' scandal where the company was found to be throttling iPhones whose batteries were degrading. Apple maintained this was to stop iPhones suddenly shutting down. Since the arrival of iOS 11.3 in early 2018 it's been possible to go to Settings > Battery and tap on Battery Health to see how healthy your battery is.
[If you were affected by Batterygate and made a claim in the class-action suit back in 2018 you may be getting around $65 from Apple!]
In more recent times Apple has made changes to iOS to preserve the battery for longer, including Optimized Battery Charging, which prevents an iPhone from remaining plugged in for long periods while fully charged. Optimized Battery Charging has been a default setting since iOS 13 arrived in 2019. You have probably noticed if you wake up in the night and look at the iPhone charging beside you that it will have stopped charging at 80% with a view to continuing the charge just before you wake up. This is designed to stop the battery from overheating and reduce the number of times your iPhone receives a full charge.
But why do iPhone batteries lose their ability to charge over time? When should your iPhone battery be replaced? You may also want to know how much it costs to replace an iPhone battery and how you can tell if a battery in a used iPhone has been replaced.
We'll run through everything you need to know about iPhone batteries below.
Why do batteries deplete and degrade over time?
It's a truth universally acknowledged that over time an iPhone battery will eventually start to lose its ability to hold a decent charge, just like the battery in any phone.
The science of this relates to chemical reactions that happen inside the lithium-Ion battery and degrade it. What it means is that if your iPhone battery isn't lasting as long as it once did you aren't alone: all batteries become less efficient over time and sadly the battery for your iPhone is no exception.
In a letter regarding Batterygate in December 2017, Apple explained that the "time and the number of times a battery has been charged are not the only factors in this chemical aging process. Device use also affects the performance of a battery over its lifespan. For example, leaving or charging a battery in a hot environment can cause a battery to age faster."
As the battery gets older it may start to require charging more frequently, hold charge less well, or even start to shut down your phone unexpectedly. You may have started to notice this change, but if you want to see the evidence it is easy to check your battery health, as we will demonstrate below.
How to check iPhone battery health
In early 2018 Apple issued an iOS software update with new features that it said "give users more visibility into the health of their iPhone's battery, so they can see for themselves if its condition is affecting performance". It's really easy to see this information:
Open Settings.
Tap on Battery.
Tap on Battery Health & Charging. (In older versions of iOS this was just Battery Health).
Note the percentage beside Maximum Capacity.
Also note the message below Peak Performance Capability. It could include details of whether your iPhone has experienced any battery-related issues.
Here you can see the maximum capacity, which in the case of our year-old iPhone 14 is 95%.
If you are wondering what iPhone capacity is bad that would generally be anything under 80%, but understandably people with iPhones under a year old would be expecting better than 90%.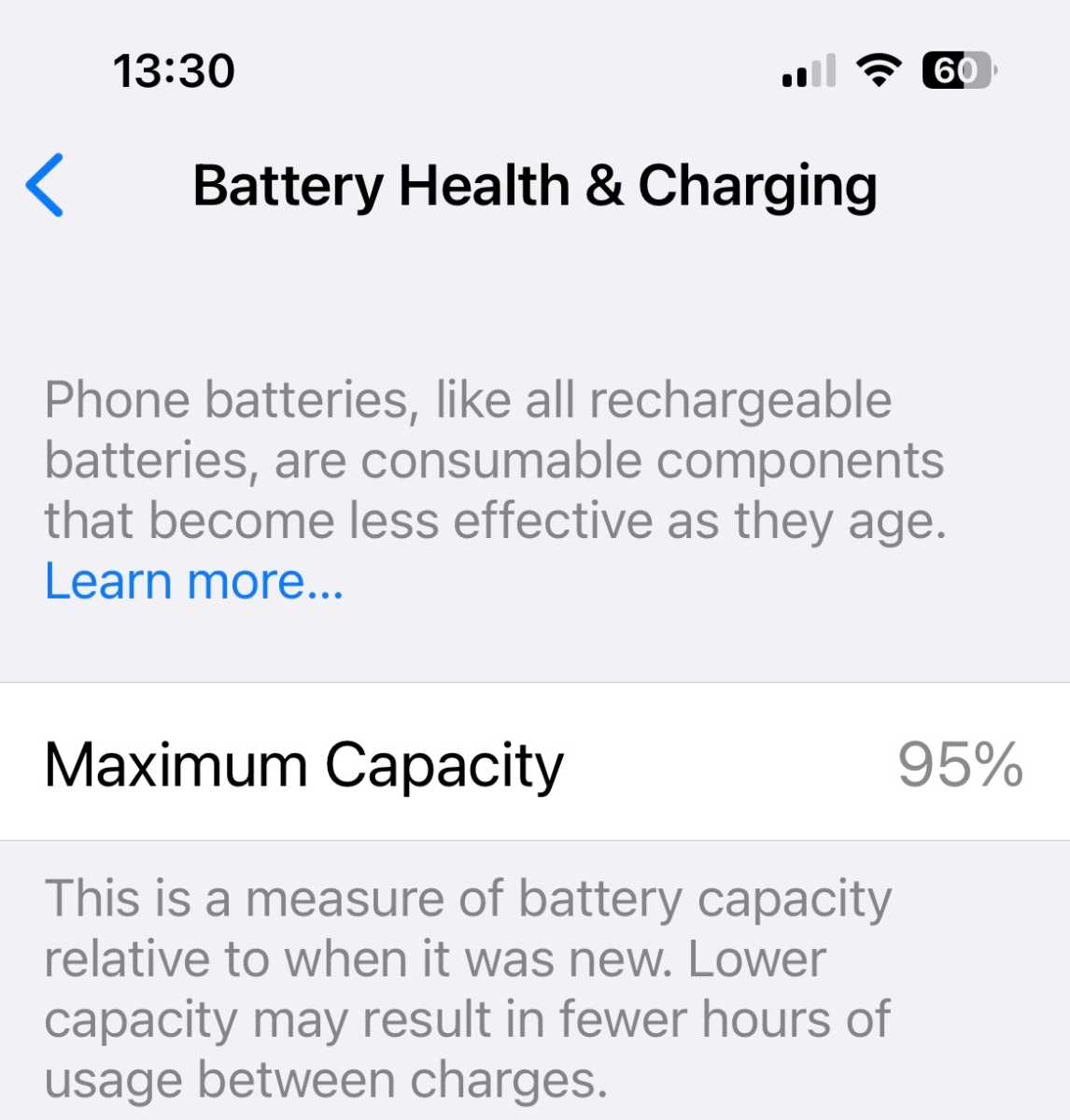 Foundry
How do you know when an iPhone battery should be replaced
Once your iPhone's battery passes the 500 complete charges point it's probably time for it to be replaced.
Unfortunately, iOS doesn't indicate how many times your current battery has been charged, but it does try to prevent too many full charges with the Optimized Battery Charging feature mentioned above.
However, once your Battery Health (which you can discover by following the steps above) falls to 80% it is time to get it replaced. In fact, Apple will display the message: "Your battery's health is significantly degraded. An Apple Authorized Service Provider can replace the battery to restore full performance and capacity."
If the battery in your iPhone–or a used iPhone you are considering buying–has depleted to 80% or lower you should get it replaced.
There are some other indicators that your iPhone might require a new battery: dimmer backlight than normal; lower speaker volume; stuttering screen when scrolling; frame-rate reduction in some game apps; and longer app-launch times.
What could happen if you don't replace the battery?
If you see a message that your battery health is degraded, you can continue to use your phone, but you may experience reduced charge capacity and some slight stability issues while your battery is on a lower charge.
If your battery isn't running at good capacity then you may also find that Performance Management is being applied to stop unexpected shutdowns from taking place. You may see a note in the Peak Performance Capability section of Battery Health that states "This iPhone has experienced an unexpected shutdown because the battery was unable to deliver the necessary peak power." To combat this, performance management is applied.
Performance Management is a feature that is only applied to older iPhone models (pre-iPhone 11). If you were to play a graphically intensive game, while the battery was below 20 percent, the setting could be triggered, for example. You can turn off this feature.
How much does it cost to replace an iPhone battery?
Apple
After Apple was found to be deliberately slowing down iPhones to save battery life back in 2017, the company offered to replace batteries for a reduced fee of $29. There was also a scheme via which iPhone 6s models could have their battery replaced for free. Neither of those programs is still running, but the cost of replacing an iPhone battery is not prohibitive.
Apple's warranty doesn't cover battery replacement if it is due to "normal use" but if you're covered by AppleCare+ then you can have your battery replaced at no additional cost, assuming it only holds 80% or less of its original charge. You can arrange an iPhone battery service on Apple's website here.
If you don't have AppleCare+ getting a battery replaced will cost the following:
iPhone 14: $99/£105
iPhone 13, 12 & 11: $89/£89
iPhone 8, 7 & all SE models: $69/£69
iPhone 5 & 5S: $49
Where to get your iPhone battery replaced
You could choose to have your iPhone battery replaced by a third party, which might save some money, but you should be cautious because if non-Apple parts are used you could end up with problems in the future (in the past third-party parts have stopped working after software updates). However, Apple's stance on third-party battery replacements has softened over the years and in August 2019 it stopped refusing to fix iPhones that had third-party batteries fitted.
There may be good reason for Apple to dissuade customers from third-party battery replacements though. Those batteries could be hazardous knock-offs, or the customers could be ripped off by third-parties who fit a replacement battery that is in fact a reconditioned older battery. With reports of mobile phones bursting into flames there may really be an issue here that Apple is trying to avoid.
Having your battery seen to by an official service technician is the best way to proceed, which may result in getting a new battery or having your current one fixed if there are any issues.
Can I replace the battery myself?
If you are wondering if you can replace the iPhone battery yourself, it is possible although we'd suggest that you don't try. If you must we advise following an iFixIt guide.
In June 2023 Apple changed its self-repair policy, allowing customers to repair some Apple devices using Apple parts – including Apple batteries for the iPhone 14, iPhone 13 and iPhone 12. This means anyone wanting to repair these devices can use the same parts, tools, and manuals the Apple Store locations and Authorized Service Providers use. You can visit the Apple Self-Service Repair Store for more information.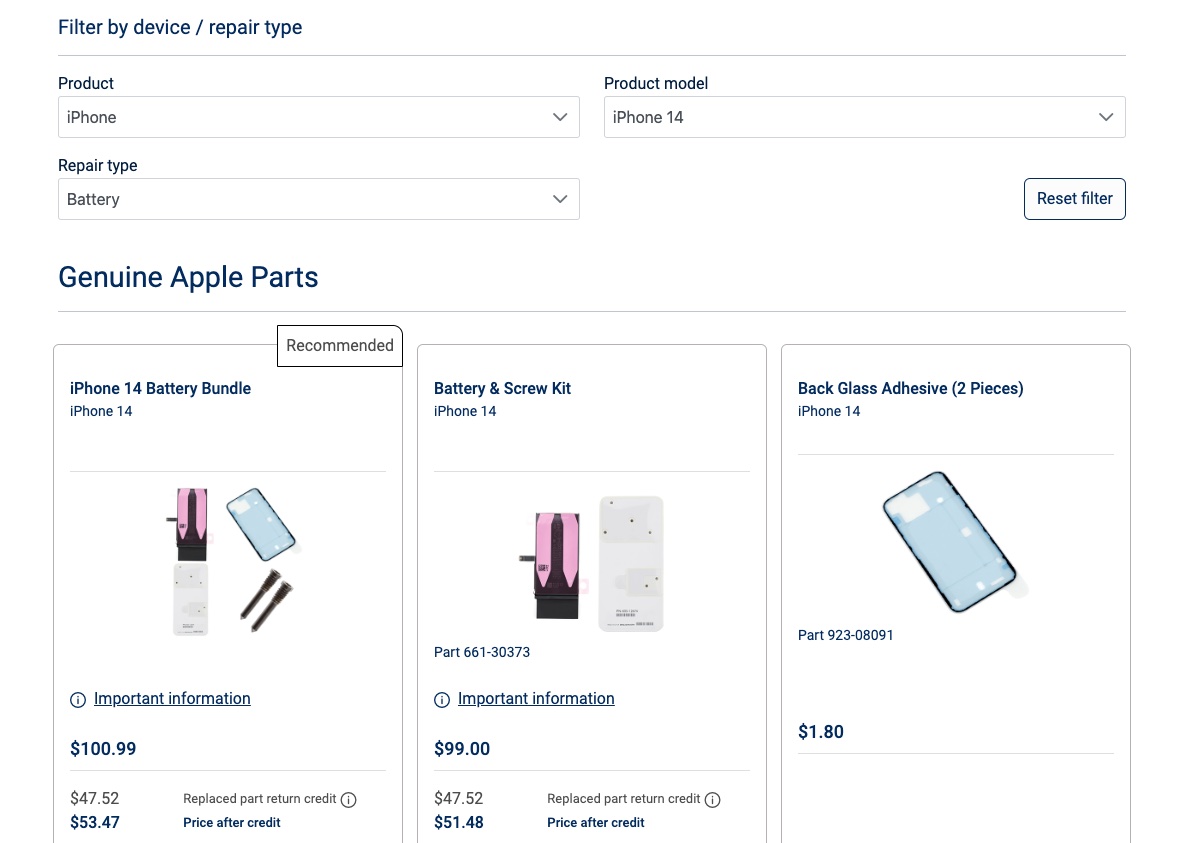 Apple
How long does Apple take to replace an iPhone battery?
If you sent an affected iPhone to Apple it should take approximately 6-8 days for the battery replacement to be taken care of. This time was reduced to up to 5 days if you take the phone to an Apple Authorized Service Provider (AASP).
Apple also suggested that same-day repair options might be available at Apple Store and AASPs, although it indicated that the iPhone may still be required to be sent away for repair.
How to tell if an iPhone battery has been replaced
There are a few ways to tell if a used iPhone you are buying has had its battery replaced–and more importantly to check if it's an Apple part and not a battery that could be hazardous.
To find details of the battery follow these steps:
Open Settings.
General.
About.
Scroll down and look for a section entitled: "Parts and service history".
In that section, you may see details of the battery if it has been replaced.
You shouldn't be concerned if there is a Genuine Apple Part, but the warning: Unknown Part could mean that there is a risk that something could happen to your iPhone.
How to maximise iPhone battery life
If you want to make sure your battery lasts as long as possible until you have a chance to get it replaced, then try the following suggestions:
Turn off Location Services.
Disable Background App Refresh.
Make sure Auto-Brightness is enabled.
Use Airplane Mode when you don't need to be connected to the internet.
We have lots more tips about saving battery life on your iPhone here.
If you're really desperate to get some more mileage out of your iPhone, then perhaps consider a battery case. These protect your phone like a regular case, but can also recharge your phone when you need it. We have a collection of the best iPhone MagSafe battery pack cases here.