macOS Recovery (often referred to as Mac Recovery Mode) was introduced back in 2010 with OS X 10.7 Lion. This Recovery HD partition contains the latest version of the macOS you installed on your Mac and makes it possible to troubleshoot issues with your Mac. It is a useful tool that the majority of Mac users will never need to use, unless one of the following applies:
You need to wipe a Mac because you want to sell it or pass it on to a new user. macOS Recovery will allow you to wipe your Mac, removing your data and your Apple ID. We have a detailed tutorial on how to wipe your Mac and restore it to factory settings. Note that there is a new way to wipe your Mac in Monterey, which we investigate in that tutorial as well.
You need to troubleshoot problems, such as failure to start up. For more info read: What to do if your Mac won't start up.
There is an issue with your disk and you want to use Disk Utility to repair it. Read: How to use Disk Utility on a Mac.
Or Disk Utility was unable to repair the issue with your drive…
You are encountering problems with a particular version of macOS and want to go back an older version. Read: how to reinstall macOS using Recovery Mode.
Or you want to do a clean install of macOS – this could fix issues that might be slowing down your Mac, for example. Here's how to clean install macOS.
Or you want to erase your disk for another reason…
You want to restore from a Time Machine backup. Read: how to restore from Time Machine.
You are having problems with your internet connection.
PROMOTION
Backup & recover files in Recovery mode | EaseUS Data Recovery Wizard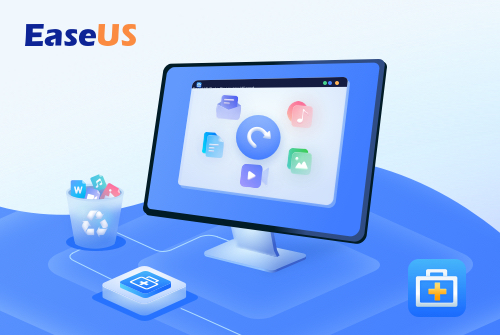 Run into recovery mode without a backup? Data loss attention! EaseUS Data recovery helps to backup files or entire disk, and recover mistakenly deleted, formatted, or lost data due to an operation in Recovery mode. Do real-time protection for any active data generated.

Now 25% OFF Exclusive Code: MACWORLD25

Windows data recovery still available. Learn More>
How to start a Mac in Recovery Mode
There are now two ways to start Recovery Mode and the method you use depends on which Mac you own.
M1 Macs
If you have a new Mac with an Apple processor, such as the M1 Macs introduced in November 2020, or one of the M1 Pro MacBook Pro models, you need to enter Recovery using a new method (lots of people don't know this and are wondering why Command+R no longer works).
Turn off the Mac.
Press the on button and keep it pressed.
Eventually the Apple logo will appear with text below it informing that if you continue holding the power button you will be able to access startup options. Keep pressing that button.
Eventually you will be able to select Options > Continue and this will open up Recovery, as per the image below (please excuse the quality when it's not possible to screenshot!)
Intel Macs
If you need to enter Recovery Mode on a Mac with an Intel processor follow these steps:
Click on Apple logo at the top left of the screen.
Select Restart.
Immediately hold down the Command and R keys until you see an Apple logo or spinning globe. You will see the spinning globe if the Mac is trying to start macOS Recovery via the internet because it is unable to start from the built-in recovery system.
Eventually your Mac will show the Recovery Mode Utilities window with the following options:
There are a number of different key combinations you can use to boot in Recovery mode depending on what you want to do, we detail these below.
Which keys to use for macOS Recovery Mode
Depending on what you want to do with macOS Recovery there are a number of key combinations to use during start up – these options work on an Intel-powered Mac:
Command + R
Use this if you want to install the latest version of macOS that you had installed on your Mac (it won't install a newer version if you hadn't upgraded). Note that if you're selling or giving away a Mac that is using OS X El Capitan or earlier you should also use Command + R – this will make sure that the installation isn't associated with your Apple ID.
Option/Alt + Command + R
Use this if you want to upgrade to the latest version of macOS that is compatible with your Mac.
Shift + Option + Command + R
This will install the version of macOS that came with your Mac, or the one closest to that version if it isn't available as a download.
Mac Recovery Mode options
When you start up in Recovery Mode you will see the following options:
Restore from a Time Machine backup
If you have a Time Machine backup this is an easy way to restore your system
Reinstall macOS (or Reinstall macOS Monterey in newer versions)
This will allow you to reinstall macOS (the version will depend on the key combination used above)
Get Help Online (or Safari in newer versions)
To access Apple's support web pages. This gives you access to Safari so you can look for the help you need, but some browser features won't be available.
Disk Utility
This option allows you to verify and repair connected drives.
Select the option that applies to you and click Continue.
We have various tutorials that might help you here. For example:
Other options in Recovery Mode
There are also various options accessible from the menu at the top of the page via the File, Edit, Utilities and Window tabs. These include:
Terminal
Here's how to access Terminal in macOS Recovery:
Start up in Recovery Mode as above.
Click on Utilities in the menu bar.
Click on Terminal.
You can read about how to use Terminal here.
Startup Security Utility
This is a crucial setting if you are using a T2 Mac (which is many Intel Macs since 2018) as you will have to ensure that you can boot from a external media before you can use a bootable installer.
Startup Security Utility includes setting that allow your Mac to start up from a trusted startup disk. M1 Mac and Macs with the T2 chip have additional options including Firmware password protection and Secure Boot and External Boot options.
Once you access Startup Security Utility you will see a number of options including those for Secure Boot and those for Allowed Boot Media. It is in this second section that you will find Allow booting from external or removable media. You will need this selected to boot from a bootable drive. See: How to create a bootable USB macOS installer.
There is also access to Firmware password protection. A firmware password prevents users who don't have the password from starting up from any disk other than your designated startup disk. Not every Mac has this option. Click Turn On Firmware Password. Enter a password and click Set Password. Then quit and go to Apple > Restart.
Network Utility
The Network Utility app gives you access to tools and information that can help you with problems with your network connections. Read more about fixing network problems here. Click on Network Utility option if you want to test ping on your Mac (we have a guide to testing Ping on a Mac here).
What to do if macOS Recovery doesn't work
If you can't start up in macOS Recovery,there are a couple of options, but again, they are different depending on whether you are on an M1 Mac or an Intel Mac.
M1 Macs
If there is a problem with Recovery Mode on the M1 Mac there is a new 'fallback Recovery mode', that is detailed by Apple here. In this case you double press the power button: first press it, release, and then press and hold down the power button.
Fallback recovery mode accesses a second copy of the recoveryOS on the SSD of the Macs with M1 Chip. Apple says the second copy is there for resiliency.
Intel Macs
If yours is an Intel Mac then you could try forcing it to boot in macOS Recovery over the Internet. Note that there is no Internet Recovery for M1 Macs – for M1 Macs you need to use fallback recoveryOS as detailed above.
If you are running an Intel Mac Internet Recovery Mode allows you to download a new copy of macOS over the internet so that you can reinstall it on your Mac. This only works on Macs that are from 2011 or later, and you will need OS X Lion or later installed.
Here's how to do that:
On a Intel Mac hold down Option/Alt-Command-R or Shift-Option/Alt-Command-R at startup to force macOS Recovery to boot over the Internet.
We have more tips for booting without a Recovery partition.
If you still can't boot then you could try booting via an external Mac startup disk.