Apple changed its MacBook connection standard from Thunderbolt 3 to "Thunderbolt / USB 4" on its plain M1 and M2 MacBooks and "Thunderbolt 4 and USB 4" on its Pro and Max models.
What does this mean? What is the difference between Thunderbolt 3 and Thunderbolt 4? And then what is USB 4?
Finally, when can we expect to see a Thunderbolt 5 Mac? Read on for all the answers we have right now.
We thought that USB and Thunderbolt couldn't get any more confusing with many different speeds (from 5Gbps to 40Gbps) and functions possible using the same "USB-C" connection.
Calm down, Mac fans. From an Apple user's point of view, there isn't a great deal in Thunderbolt 4 that's new or different from Thunderbolt 3, with which it is backwards compatible. The big changes are coming with Thunderbolt 5.
Indeed, in its M1 and M2 MacBooks tech specs, Apple doesn't even call it Thunderbolt 4, listing it as "Thunderbolt / USB 4" including Thunderbolt 3. For the superior M1 Pro and M1 Max MacBook Pro models, Apple lists the ports as full Thunderbolt 4—this is likely because the Pro/Max versions of the M1 can support multiple external screens, unlike the limited plain M1 or M2 MacBooks. Without the ability to connect to two external displays, it can't be labelled as Thunderbolt 4.
What is the difference between Thunderbolt 3 and Thunderbolt 4?
Thunderbolt 4 is only significantly different for Windows PCs, whose Thunderbolt 3 variations were often limited in features—where Apple always gave its users the full Thunderbolt 3 feature set.
Thunderbolt 3 on a Windows laptop could lack the full 40Gbps bandwidth, or maybe not support multiple displays or power delivery.
Poor PC users, you've got to feel for them.
Thunderbolt 4 requires mandatory certification for all computers, which means Windows users finally get all the great features Apple users got with Thunderbolt 3. So Thunderbolt 4 standardises Thunderbolt 3 for all computer users.
It's backwards compatible, but buying Thunderbolt 4 devices will also future-proof your setup.
So if your Mac has "just" Thunderbolt 3, don't worry. It's just that Windows PCs can now join in the fun without limitations, where in the past PC manufacturers could claim theoretical specs but not deliver the best they could by being merely "compatible" rather than "certified".
It should be noted that the latest MacBooks with Apple's own M1 or M2 chips do have a significant limitation: they can't run more than one external display natively. However, there is a workaround that allows M1 MacBooks to run more than one external display.
In fact, Thunderbolt 3 was required to support only one external 4K monitor, whereas every Thunderbolt 4 laptop has to support two 4K displays or one 8K display.
Thunderbolt 4 now ensures that you can wake a computer with the shake of a mouse or the tap of a keyboard on Thunderbolt 4 docks. This wasn't always the case with Thunderbolt 3. This is maybe why Apple isn't specifically calling its Thunderbolt version 4, due to the M1 display limitation.
TB4 is also a more data-safe technology, as it requires Intel VT-d-based direct memory access (DMA) protection, also known as DMA remapping.
What else? Well, Thunderbolt 4 requires PCIe (peripheral component interconnect express) at 32Gbps for storage speeds up to 3,000MBps, which is double the minimum requirements of Thunderbolt 3, although Apple's recent MacBooks did have this already. Some of the early Thunderbolt 3 MacBooks had less bandwidth available on the right-hand-side Thunderbolt ports. Faster PCIe is important if you frequently transfer very large files between storage devices.
Here we are talking about the portion of total Thunderbolt bandwidth allocated for PCI Express data transfer. With Thunderbolt 4, you're assured to have all four lanes of PCI Express available—so PCIe can consume up to 32Gbps of the total 40Gbps Thunderbolt bandwidth. With Thunderbolt 3, depending on your laptop manufacturer and model, some implementations offer only 16Gbps of PCIe bandwidth.
Other advantages of Thunderbolt 4 include that hubs and docks can now have more than two Thunderbolt ports (up to four) and that TB4 cables can be up to 2 metres long and still handle the 40Gbps bandwidth. Previously, passive TB3 cables had to be 0.7m or under to handle full bandwidth.
Thunderbolt 4 and USB4 are much more likely to support the latest USB PD 3.1 standard that allows for maximum charging of 240W compared to USB PD 3.0 and Thunderbolt 3's 100W. Remember that you need the correct type of cable for the higher charging rates: read our roundup of the best Thunderbolt 4 cables.
But there is just one more thing about Thunderbolt 4 that's a little bit special…
What is Thunderbolt 4 hubbing?
Thunderbolt 4 is, in some ways, just a software upgrade for Mac users. You need at least Apple's Big Sur operating system (macOS 11) to get its new hubbing functionality.
Hubbing does away with the risks of Thunderbolt device daisy-chaining.
You've always been able to connect multiple Thunderbolt devices but in a potentially long chain, which meant that if you removed any one of them (except the last one in the chain) all the others became unusable until the chain was re-established.
Now, with Thunderbolt hubbing, you can have up to four Thunderbolt ports in a hub or dock—each a separate "branch" that can be disconnected without affecting any other Thunderbolt devices connected in the other ports.
Up to six Thunderbolt 4 devices can be smartly daisy-chained.
Thunderbolt 4 docks
We have tested the best Thunderbolt 4 hubs and docking stations, as well as the best Thunderbolt and USB-C docks.
The TB4 hubs generally feature four 40GbpsThunderbolt 4 ports (one upstream to connect to the computer, and three downstream to external devices). Docks sometimes swap out one or two downstream TB4 ports for more traditional display connectors (such as HDMI and DisplayPort).
You can learn more about the most fully featured hub we've tested in our Caldigit Thunderbolt 4 Element Hub review. This hub features four Thunderbolt 4 and four 10Gbps USB-A ports.
What is the difference between USB4 and Thunderbolt 4?
Intel didn't want there to be a confusing USB 4.1, 4.2, etc, so it jammed the 4 right next to the USB. Apple ignores this and insists, in its Apple-like way, on calling it "USB 4".
Both use the same USB-C-type connector, just like Thunderbolt 3, too.
Thunderbolt 4 is based on the same underlying protocol as USB4—the two are tightly connected, with all Thunderbolt 4 devices supporting USB4. If someone has a USB4 laptop, they can use a TB4 device and the other way around.
In fact, Thunderbolt 4 is USB4 with all the trimmings.
Not all USB4 devices will be as powerful as the fully certified Thunderbolt 4, however.
Just like Apple's version of Thunderbolt 3, Thunderbolt 4 will always have a full 40Gbps bandwidth.
USB4, however, starts at 20Gbps but can also reach Thunderbolt 4's 40Gbps. Look out for USB 20 or USB 40 in product marketing.
A USB4 port can only support one display. Thunderbolt 4 can support two 4K displays.
The good thing about USB4 is that it will mean that manufacturers can release more powerful hubs and docks that are not Thunderbolt, at a cheaper cost.
However, since Thunderbolt products are certified, it means that they are of the highest standard. USB4 devices don't need to be certified and so eventually we will see many USB4 devices flooding the market with varying degrees of quality, as we see with USB-C hubs today.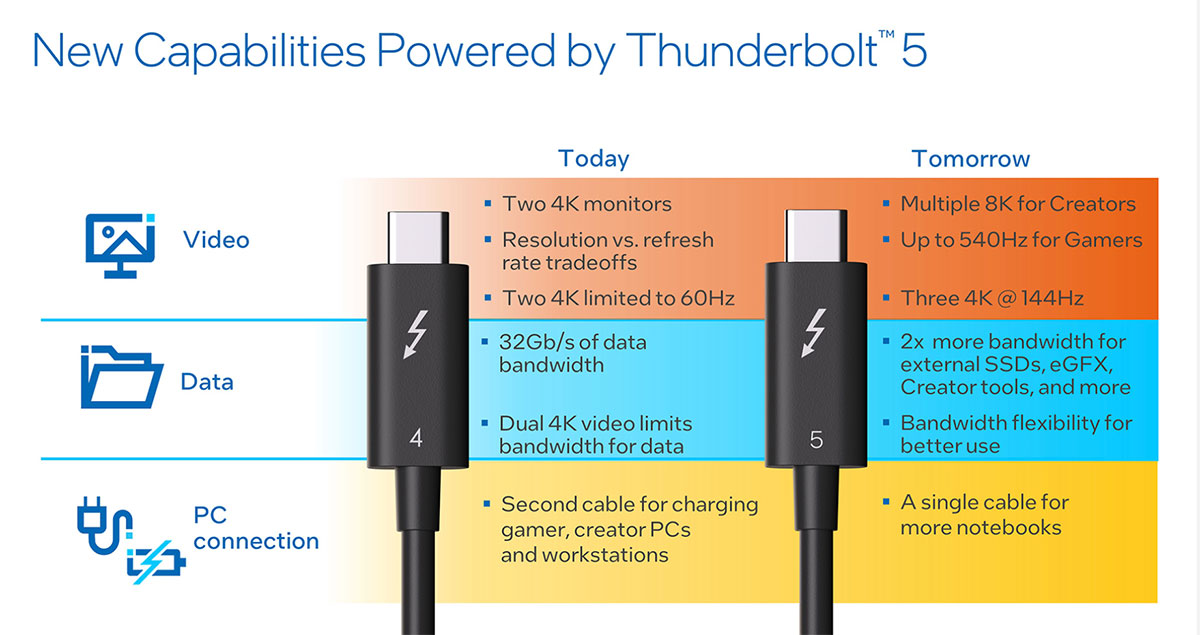 Intel
When can we expect Thunderbolt 5?
After much teasing in 2022 and a demo in October 2022, Intel officially announced Thunderbolt 5 on September 12, 2023.
However, we won't see Thunderbolt 5 in any actual devices until 2024—so we can expect a Thunderbolt 5 Mac in maybe mid-2024.
Thunderbolt 5 is a real step up from Thunderbolt 4—unlike Thunderbolt 4's minor enhancements on Thunderbolt 3.
Bandwidth is doubled from 40Gbps to 80Gbps, and display connections go as fast as 120Gbps—so up to three times more bandwidth than today's best existing connectivity solution.
Thunderbolt 5 will supply up to 240W of charging power downstream to the connected Mac. Apple's 16-inch MacBook Pro currently supports 240W PD 3.1 but through its MagSafe 3 port and not via its Thunderbolt 4 ports that are rated PD 3.0 and limited to 100W. A Thunderbolt 5 MacBook would hugely increase its charging power.
Thunderbolt 5 also supports DisplayPort 2.1—compared to today's DisplayPort 1.4. DisplayPort 2.1 supports a max 10K resolution (10240-×-4320 pixels at 60Hz) on a single display, compared to the 8K resolution supported by DisplayPort 1.4. It also includes improved version of Display Stream Compression (DSC 1.2a) that improves bandwidth management.
Who owns Thunderbolt? Intel or Apple?
Apple and Intel have collaborated on Thunderbolt technology since 2010, releasing its first Thunderbolt MacBook in 2011.
Apple even registered the trademark "Thunderbolt" although it passed this on to Intel, in return for "unrestricted use of the technology". But Intel is the official owner of the Thunderbolt technology.
Before this agreement, the technology was known by Intel as "Light Peak".