If you're an older user looking to pick up an iPad or someone wanting to gift an Apple tablet to Grandad or Grandma, which is the best iPad to choose? There's a fair selection in the current Apple catalogue, from the diminutive iPad mini all the way up to the incredibly powerful (not to mention very expensive) iPad Pro. It's can be intimidating, especially as different users have different needs. To help you make sense of it all, here's our guide to finding the best iPad for seniors.
What makes an iPad good for older users?
iPad owners don't magically transform into timid technophobes on their 70th birthdays, and there isn't one right answer to this question. Any iPad model might turn out to be the right choice for a specific older user, depending on that user's precise requirements.
But there are a few criteria that tend to become more of a factor when our bodies begin to age. Screen size is one element, with eyes not being as strong as they once were. Weight/portability can also become more important; some older users have arthritis, while others find they tire more easily than they used to when using a tablet for extended periods of time.
We will also want to think carefully about price vs power and features, since you don't want to spend lots of money on a device with capabilities you'll never really use.
But, as we say, these can be true for any user, so it's always best to talk to the person in question about their particular needs if you want to pick the perfect tablet.
If you were to put us on the spot, however, we do have some thoughts about the iPads that are most likely to suit an older user. Here's our selection.
Best affordable option: iPad (2021, 9th generation)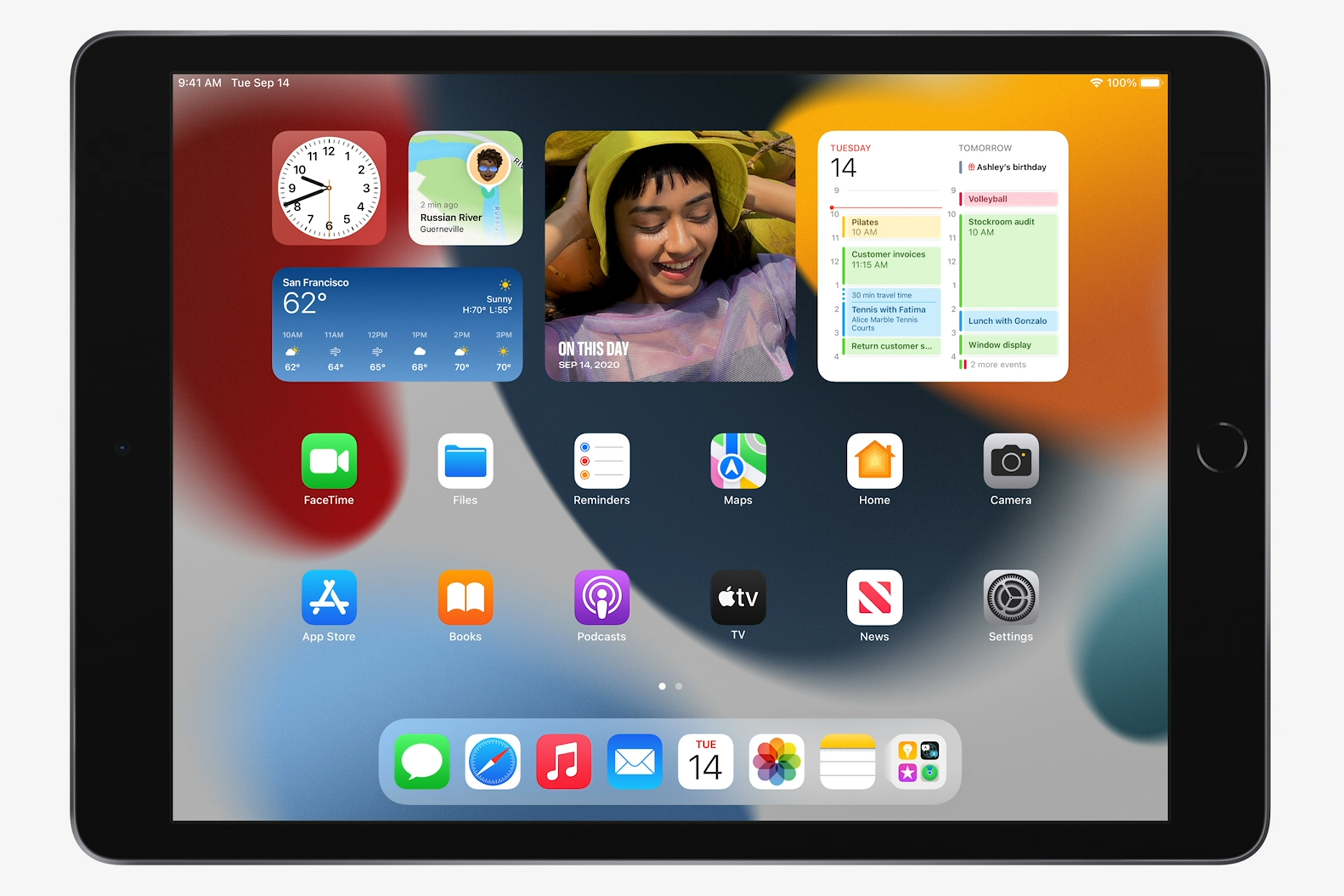 Pros
Affordable
A13 Bionic processor
Support for Apple Pencil (1st Gen)
Solid performance
Home button
Cons
Older design
64GB storage is quite low
Price When Reviewed:
$329 (base model)
The 10.2in iPad (2021) may well be the cheapest iPad model you can buy, but that doesn't mean it's a truly 'budget' device in the pejorative sense. For many – perhaps most – people, this iPad will deliver everything you want from a tablet and not cost you a small fortune in the process.
While Apple recently launched the 10th Generation iPad, this 9th Generation model still has plenty to offer and could well be the best blend of affordability, power and functionality for the older user. One of the reasons we say this is the inclusion of the Home button. iPadOS features many great swipe gestures for navigating through apps and menus, but sometimes its good to have a simple button that can always take you back to the Home screen. It stops you feeling lost or confused when you just want to open up a new app or change some settings. As the last iPad to come with a Home button, this is a prime feature to consider when it comes to selecting an iPad for senior users. A good rule of thumb is the phone they currently use. If it's an older iPhone with a Home button, then this iPad will be instantly familiar to them, but if it's anything from the iPhone X onwards, then you may want to opt for some of the other options listed below.
Apple's A13 Bionic chip powers the iPad 10.2-inch (9th Gen), and it's ideal for surfing the web, watching streaming services and shopping online. This is the same processor that also featured in the iPhone 11 Pro, so you can see that it's hardly something that's been plucked from the spares bin.
For FaceTime calls there's a 12MP Ultra Wide front camera. Not only is this far better than the 1.2MP FaceTime camera of the previous generation iPad, it also brings advanced features such as Centre Stage (which allows you to move around on video calls while the iPad tracks you), 2x zoom and 1080p video.
Why are these features particularly good for seniors? Well, having an excellent video-call experience will allow them to keep in touch with the grandkids, friends or family around the world, without looking grainy or like they're calling from the early 2000s.
The 10.2in display is also large enough for eyes that might be starting to diminish in power, while the touch targets on the screen will be easy to hit with unsteady hands. Of course, many seniors are full of more life and vigour than their millennial grandchildren, and the ability to connect an Apple Smart keyboard and first-gen Apple Pencil makes this a perfect companion for travelling while writing memoirs or creating art. It's also the only remaining iPad to feature a headphone jack, which could be very useful if the intended recipient hasn't yet embraced the wireless charms of the AirPods or AirPod Pros.
The 9th-gen iPad 10.2in comes in these storage options, priced as follows:
If you want to add cellular capabilities then those are also available:
64GB (cellular): £459/$519
256GB (cellular): £609/$699
It isn't just the best choice for older users, but probably for most users full stop.
Read our full
iPad (2021, 9th generation) review
Best lightweight option – iPad mini (2021)
Pros
Lightweight
Modern design
A15 Bionic processor
Cons
Smaller screen size
Higher price than former iPad minis
64GB storage on base-line model
Price When Reviewed:
$499 (64GB) | $649 (256GB)
It's a sad fact that as we age our bodies can lose some of their strength or gain some conditions that we avoided when younger. If you're looking for an iPad that's lightweight, and therefore easier to hold for longer periods, then the iPad mini (2021) is the one to choose. At around 0.65lbs/293g it's roughly half the weight of the iPad 10.2in discussed above.
This is made possible, as the name suggests, by the smaller display. But the 8.3in panel is still an excellent size for the web, not to mention actually better as an e-reader thanks to being easier to hold.
Under the hood the iPad mini is a powerhouse, with an A14 Bionic chip, 5G capabilities on the LTE models, plenty of storage, and powerful cameras with the same Ultra Wide front-facing module as on the 9th-gen 10.2in iPad. It's compatible with the Apple Pencil (2nd gen) and various Bluetooth keyboards, so you can use it as a small laptop if you want to get stuff done.
It's a lovely all-round package that offers the most portable solution for those who want to take their iPad with them.
The iPad mini (2021) is available in these configurations:
iPad mini (2021, Wi-Fi) 64GB: $499/£569
iPad mini (2021, Wi-Fi) 256GB: $649/£749
iPad mini (2021, Wi-Fi + Cellular) 64GB: $649/£749
iPad mini (2021, Wi-Fi + Cellular) 256GB: $799/£929
Check our guide to the best iPad mini deals to see if you can get one for a lower price.
Read our full
Apple iPad mini (2021) review
Best all-rounder – iPad (2022, 10th generation)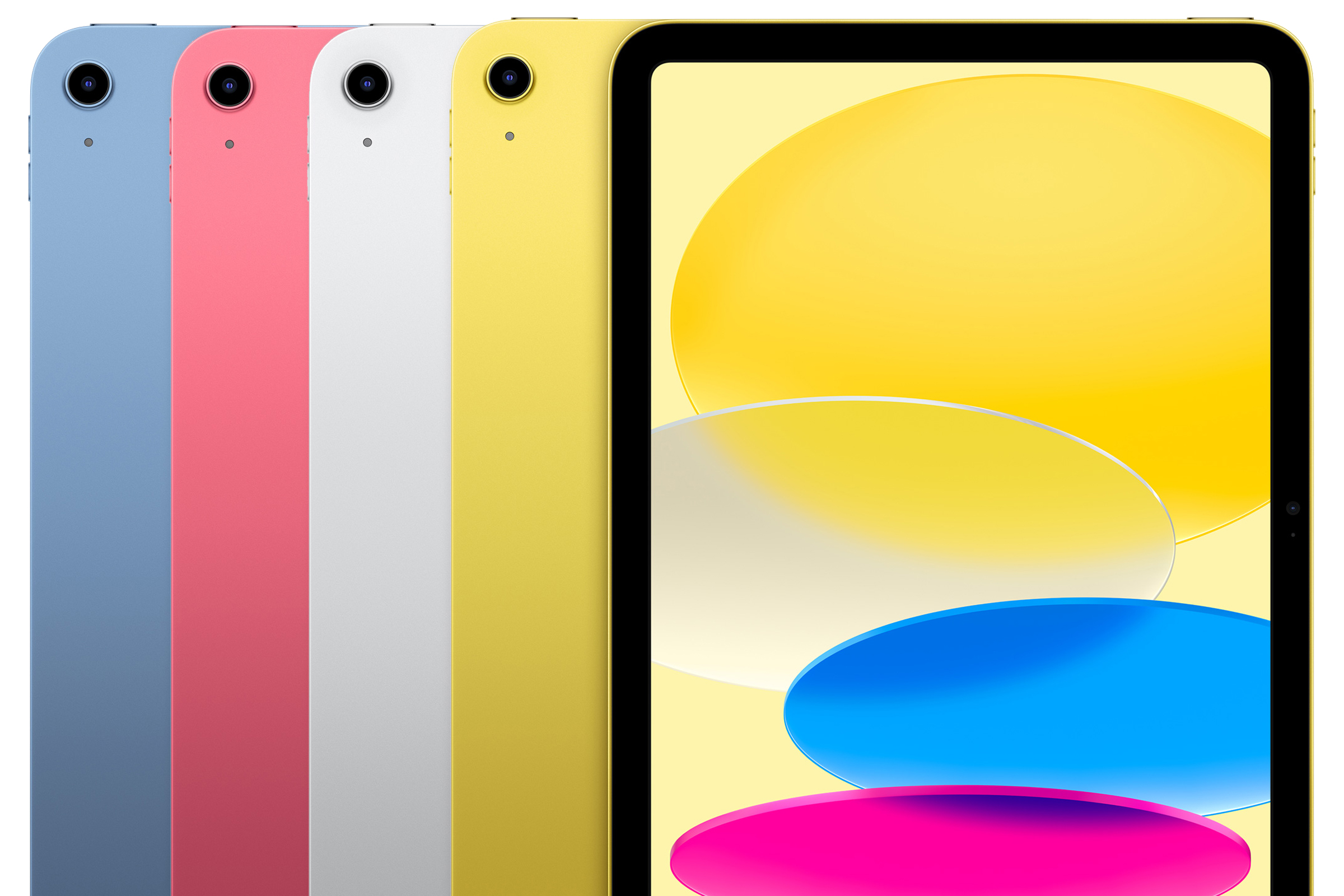 Pros
10.9-inch Liquid Retina Display
Modern design
Landscape camera
Various colours
USB-C port
Cons
Higher price than previous generations
64GB of storage on base model
Only supports Apple Pencil (1st Gen)
Price When Reviewed:
From $449
The newest device on this list is the recently released iPad 10.9-inch (10th generation), which ditches the Home button design of its forebears and follows the aesthetic established by iPad mini and iPad Air. Although the button is gone, this iPad still features Touch ID, it's just that the sensor is now part of the power button that resides on the top edge of the device. This allows Apple to fit a large 10.9-inch Liquid Retina Display into a chassis that's almost the same size as the iPad 10.2-inch (9th generation). Obviously, this increased screen real estate will be attractive to those who prefer larger fonts and should make tapping on-screen buttons a little easier for unsteady hands.
One of the main new features, aside from the overall design, is that Apple has finally moved the front facing camera from the traditional top bezel to the longer side one. This essential turns it from a potrait to a landscape, hence the name Landscape Ultra Wide camera. The upside of this is that you can sit the iPad on its longer side when making FaceTime calls, which will have you looking into the middle of the camera rather than it being off to the side. There's also support for Centre-Stage, so if you move around, the software will keep you in the centre of the shot. Basically, this makes it the best iPad for FaceTime calls with family.
It's not just in the looks department where the new iPad excels, as the included A14 Bionic chip, that previously powered the iPhone 12 range (including the Pro models), means there's plenty of performance available. You can use the 1st generation Apple Pencil on this device, and the new USB-C port opens up a world of peripherals you can plug into the iPad. These include keyboards, external storage and even monitors if you want a pseudo-desktop PC.
One drawback of this switch is that owners of a 1st generation Apple Pencil will need to buy an adaptor to be able to charge is from the iPad. If you buy a new Pencil from Apple, the adapter is now included in the box.
The iPad comes in four attractive colours (Blue, Pink, Yellow and Silver), so you're not stuck with just boring old black or silver.
These are the available configurations:
64GB: $449/£499
256GB: $599/£679
64GB (Cellular): $599/£679
256GB (Cellular): $749/£859
As with the other iPads on this list, you might want to consider opting for the 256GB storage variants, as 64GB can fill up pretty quickly if you like to store photos and videos on the device itself. Apple also offers a new keyboard case called the Magic Keyboard Folio, which is nice but costs an eye-watering $249/£279, so we'd advise looking for cheaper (and often just as good) third party products instead.
For more information, take a look at our Everything you need to know about the iPad 10.9-inch (10th Generation) guide.
Best performance option – iPad Air (2022)
Pros
M1 processor
USB-C port
Apple Pencil (2nd Gen) support
Smart connector
Cons
Getting expensive
64GB storage on base model
Price When Reviewed:
$599(64GB) | $749 (256GB)
While it's true that the iPad Pro models are the most powerful iPads available, for most people they are simply overkill. Also, they come with Pro level prices, which isn't great if you're only going to use them to watch iPlayer and FaceTime the grandkids. So, for the more discerning user that requires plenty of power but at a reasonable price, the iPad Air is an excellent solution.
With the recent introduction of the iPad 10.9-inch (10th generation), there's not much to differntiate that model and this one. But, when you look closely, you can see from where the extra expense comes. The two devices are around the same size, although the Air is marginally more compact and lightweight. Both sport a 10.9-inch Liquid Retina Display, but the one on the Air is fully-laminated, so there's no air-gap between the glass and digitiser, which makes it feel like you're touching the actual pixels and makes using the compaible Apple Pencil (2nd gen) that much smoother.
They feature the same 12Mp cameras on the back and front, only the iPad 10.9-inch (10th gen) one is located on the longer side of the device, making it landscape. But, under the hood the Air has the incredibly powerful M1 processor, which was previously found in the last generation iPad Pros, not to mention several recent Macs. This takes things to another level. If someone wants to play games, use graphically intensive apps or just wants a really fast user experience, then the M1 delivers that in spades.
The iPad Air (2022) has often be called the iPad Pro for normal people, and that's exactly what it is. The USB-C port allows you to connect various external devices, such as storage or monitors, so it can easily transform into an erstaz laptop with a processor that's desktop-class. Apple offers the sleek Magic Keyboard folio case, but at $299/£319 it's way overpriced, so we'd suggest a third party Bluetooth keyboard and case as more frugal option.
The only real downside, apart from a recent price hike by Apple for non-US customers, is the 64GB of storage available on the base model. In 2022 this seems very mean-spirited of Apple, especially when its iPhones usually start at 128GB. With that in mind, you'll probably want to go for the more expensive 256GB configuration as it will age a bit better.
You can pick up the iPad Air in the following configurations:
iPad Air (2022, Wi-Fi) 64GB: $599/£669
iPad Air (2022, Wi-Fi) 256GB: $749/£849
iPad Air (2022, Wi-Fi + Cellular) 64GB: $749/£849
iPad Air (2022, Wi-Fi + Cellular) 256GB: $899/£1,029
Be sure to read our roundup of the best iPad Air deals too, so you don't miss out on any great offers.
Read our full
Apple iPad Air (2022) review
Best luxury option – iPad Pro (2022)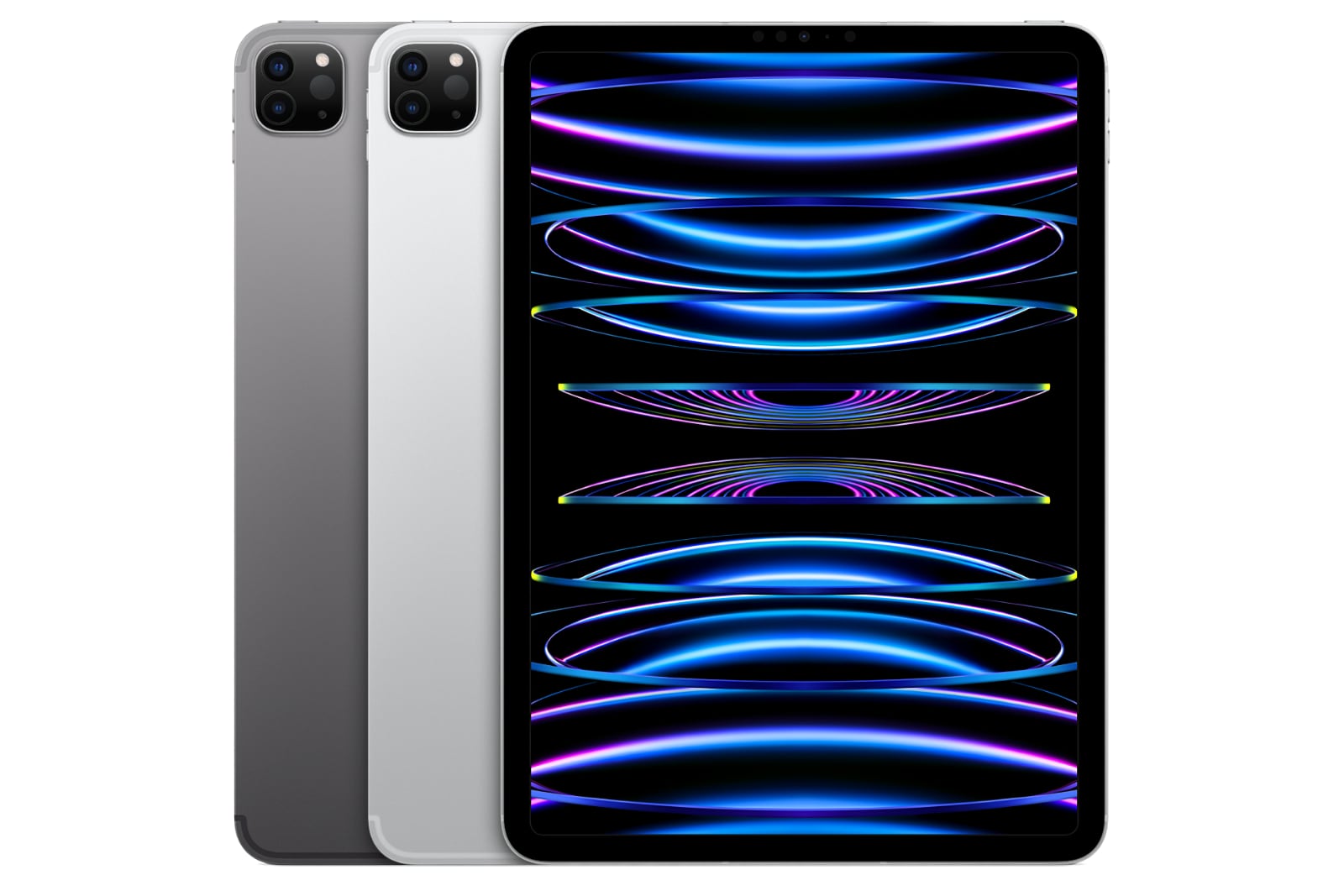 Pros
Insanely powerful
Best iPads money can buy
ProMotion displays
Cons
Very expensive
Too much power for most people
12.9-inch model is heavy
Price When Reviewed:
$799 (128GB, Wi-Fi only)
For those to whom money is no object or require the highest-end performance an iPad can deliver, the iPad Pros are the only choice. Recently upgraded to the latest M2 processior, these are devices that absolutly fly. Every appointment is to-notch, from the Liquid Retina XDR displays with super-smooth ProMotion technology, to the USB-C ports that support Thunderbolt 4. These are Pro devices. With that is the caveat that most people won't necessarily see these benefits unless they are using pro-level apps that push the device hard.
The Pro comes in two sizes – 11-inch and 12.9-inch – with the latter being an absolute whopper. If you need a large-screen then this is as big as it gets, but it comes with a 685g weight that makes it easily the heaviest iPad available. So, good for the eyes, bad for the hands.
To anyone other than a professional designer, animator or other digital specialist that can harness the power of the iPad Pros, these are simply too much and your money would be better spent on the iPad Air. But, if that's you or you just want a luxury iPad to enjoy, then this is the premium end of the street.
The iPad Pro 11-inch (2022) is available in the following configurations:
128GB: $799/£899
256GB: $899/£1,019
512GB: $1,099/£1,249
1TB: $1,499/£1,699
2TB: $1,899/£2,149
If you want 5G cellular capabilites, then these are the options:
128GB (Cellular): $999/£1,079
256GB (Cellular): $1,099/£1,199
512GB (Cellular): $1,299/£1,429
1TB (Cellular): $1,699/£1,879
2TB (Cellular): $2,099/£2,329
The iPad Pro 12.9-inch (2022) is available in these configurations:
128GB: $1,099/£1,249
256GB: $1,199/£1,369
512GB: $1,399/£1,599
1TB: $1,799/£2,049
2TB: $2,199/£2,499
Here's the prices for the cellular equipped models:
128GB (Cellular): $1,299/£1,429
256GB (Cellular): $1,399/£1,549
512GB (Cellular): $1,599/£1,779
1TB (Cellular): $1,999/£2,229
2TB (Cellular): $2,399/£2,679
Check out our roundup of the best iPad Pro deals to see if you can get a good bargain on these flagship devices.
For more information, read our new M2 iPad Pro: Everything you need to know guide.