If you carry a smartphone or cellular tablet, as most of us do, you're letting the world – or at least the world's advertisers and government agencies, along with your social media contacts – know exactly where you are. Sometimes that's convenient, enabling you to access localised services and participate in location-based games and social networks. But at other times it can be a pain. There are times when you simply don't want anyone to know where you are.
There are solutions, but most involve cutting off this data entirely. You might simply leave the phone at home, turn it off, or disable its location services. In this way you can prevent others from tracking your location – but you lose the benefits discussed above.
What if there was a way to spoof your location? Rather than preventing the phone from sending out location data entirely, we could tell it to send out data pointing to a different location, thereby gaining the benefits with none of the disadvantages.
Here are some scenarios when this approach could work to our advantage.
When playing a location-based game, in which actions and achievements are based on your location or physical movement. You can play Pokémon Go or Harry Potter Wizards Unite from the comfort of your own home, tricking your phone's GPS into thinking you're walking around outside, or close to a gym or other interaction point. Sure, exercise is good for you, but sometimes it rains.
When you're using a dating app and want to talk to people from another city. You might be planning to visit that city in the near future, or you might be looking for a long-distance relationship. This can be a handy option on Tinder, Bumble or Grindr.
When you're visiting a place for personal reasons and don't want the location to show up on Facebook or other social networks. It doesn't need to be anything sinister – just private.
When you want to view geo-restricted music and video, or play games that are available in certain locations only.
In all of these scenarios, a piece of software called iToolab AnyGo is just what we're looking for.
AnyGo's handy features
If you wish, AnyGo enables you to change your current GPS location to another with a single click.
But the clever thing about AnyGo is that it isn't limited to static locations like a VPN. Rather, it can create active, realistic and customisable movement, based on two or more map points, or imported GPX files. You can save your routes for ease of repetition in the future.
You can specify and vary speed of movement, whether you want to simulate walking, cycling or driving, set pauses for added realism (and cooldown periods to avoid account bans), and even take direct control using a joystick or keyboard entry. And if you've got more than one iOS or iPadOS device, you can spoof up to five locations simultaneously.
The software is safe, simple to use – as you can see in the next section – and compatible with Mac (macOS 10.10 or later) as well as PC. It doesn't require your device to be jailbroken.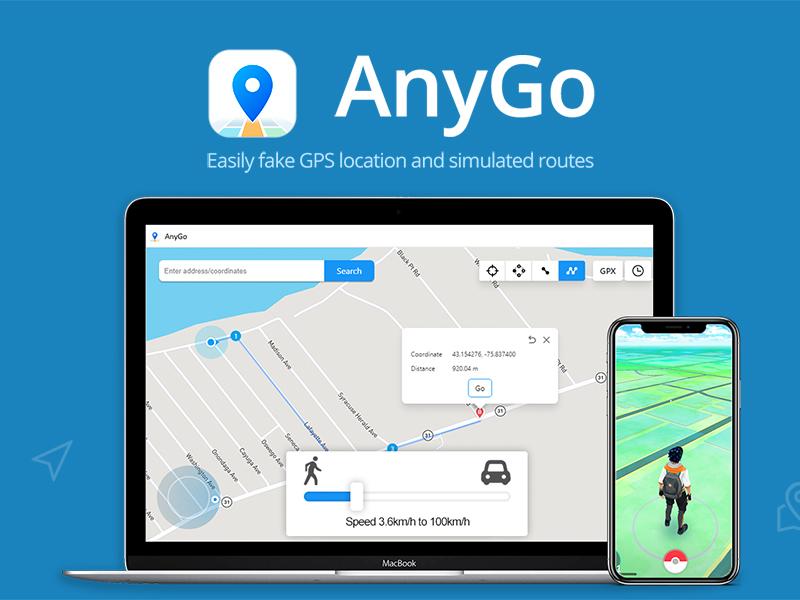 RRP: $7.96/month
iToolab AnyGo lets you play location-based games such as Pokemon Go without leaving your home – play directly from your desktop or mobile device. Right now, you can save 20% on the monthly subscription!
How to use AnyGo
The key is to understand that AnyGo will take effect on your iOS device, but is installed and run on your Mac.
For a simple GPS spoof the process is just three steps:
Install AnyGo on your Mac (if you haven't done so already) and launch the software.
Connect your iPhone or cellular-capable iPad to the Mac and click Start.
You'll see your current location on a map. Enter your desired GPS location in the search bar and click Go.
And that's it!
To set up a route, the process is only slightly more complex:
Install and launch the software.
Connect your iPhone or iPad and click Start.
Click the 'two-spot route' or 'multi-stop route' icon (as required) and input your desired locations.
Set a speed (if you wish, you can use Realistic Mode for a natural speed), select how many times you want to 'move' between the locations and click Go.
AnyGo is available as a monthly, quarterly or yearly subscription, or as a one-off lifetime purchase, and comes with free customer support. Best of all, the software is available at a 20% discount if you use the coupon code IDG20 – this lowers the price from $12.95 per month to $10.36 per month.
You can read more details on iToolab's website.