The Apple TV 4K landed back in April 2021, and while the company hasn't exactly had a regular pattern for releasing upgrades to its streaming box, rumors had suggested its successor could be right around the corner and indeed, on October 16 Apple launched a new, cheaper (depending on where you live) Apple TV 4K. However, not much has really changed. Read on for everything you need to know about the new Apple TV for 2022.
2022 Apple TV 4K: Release date
The third-generation Apple TV 4K is already available to order, but shipping won't start until Friday, November 4, 2022.
You can order one from Apple here: Buy an Apple TV 4K.
2022 Apple TV 4K: Price
In a tweet in May 2022 Apple analyst Ming-Chi Kuo used the term "improves cost structure" to imply that the new Apple TV would be cheaper. The new Apple TV 4K is indeed cheaper. Even in the U.K., where prices have risen across the range, the entry price is just £10 more and the new 128GB model costs the same as the 32GB model did in 2021.
The Apple TV 4K (from 2022) with 64GB SSD is $129/£149
The Apple TV 4K (from 2022) with 128GB SSD and Ethernet is $149/£169
Prior to the launch of the 2022 Apple TV 4K there were three Apple TV models on sale at the following prices:
The Apple TV HD (from 2015) with 32GB SSD sold for $149/£139
The Apple TV 4K (from 2021) with 32GB SSD sold for $179/£169
The Apple TV 4K (from 2021) with 64GB SSD sold for $199/£189
Is this enough of a discount to make the Apple TV 4K an attractive buy? The Apple TV is still one of the most expensive streaming boxes on the market, with most of its rivals from Amazon and Roku dropping the set-top-box design in favor of streaming sticks, something that Apple is yet to do. There are a few exceptions, such as the Amazon Fire TV Cube and Roku Streambar, but they still tend to come in a bit cheaper than Apple's offering.
Here's the current prices of the main alternatives:
The cheaper price could help Apple's streamer get more hold in a marketplace that currently sees Amazon, Google and Roku rule the roost. The main issue though, aside from the price, is the fact that every other streamer can stream Apple's Apple TV+ offerings, and many TVs support AirPlay (and Apple TV+) so there isn't a big reason to buy an Apple TV, certainly not a big enough reason to justify the high price.
For more advice read: Apple TV 4K: Buy now or wait? and to get the best prices on an Apple TV read our round up of the best Apple TV deals. You may also like to take a look at our guides to the best shows coming to Apple TV+ and find out how to get Apple TV+ for free.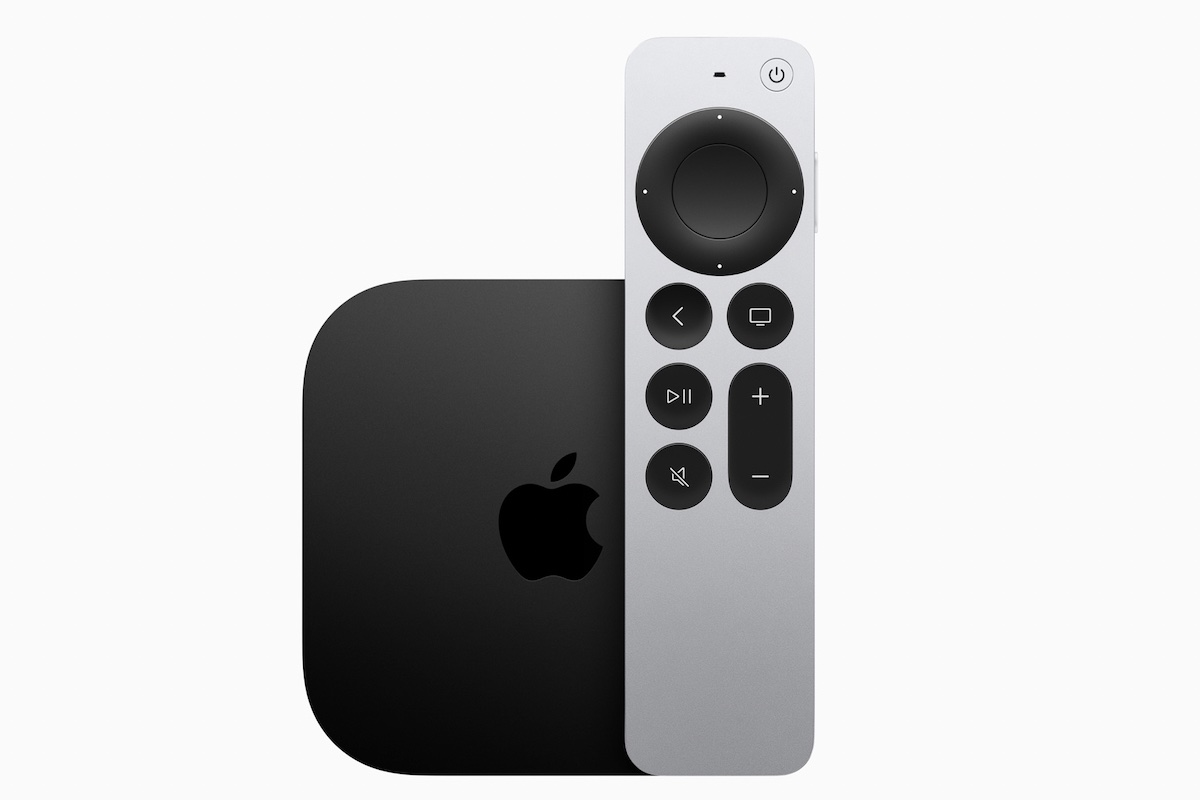 Apple
2022 Apple TV 4K: What's new?
We are referring to it as the third generation Apple TV 4K to differentiate between the 2021 Apple TV 4K and the 2017 Apple TV 4K. Prior to the launch of the 2022 Apple TV 4K there was an Apple TV HD on sale, but that model was launched in 2015, so it's no surprise that Apple is no longer selling it – it was more of a surprise that it was selling it for that long.
The third-generation Apple TV 4K arrived about a year and a half after Apple last refreshed the Apple TV, but it wasn't a major update at that time, and it's not a huge update now either.
The only obvious distinction between the Apple TV 4K (2021) vs Apple TV 4K (2017) generations was the redesigned Apple TV remote (there was also a newer chip, a change to the HDMI standard, and a way to calibrate the TV using an iPhone, but that was it). This time the big changes introduced with the 2022 Apple TV 4K are as follows:
2022 Apple TV 4K: Dimensions & Design
The 2023 Apple TV 4K has a smaller footprint. It now measures:
3.66in (93mm) x 3.66in (93mm) x 1.2in (31mm)
It was previously:
3.9in (98mm) x 3.9in (98mm) x 1.4in (35mm)
That's not a huge difference, but it means Apple's box will take up a little less space under your TV.
Other than that change the only other difference is that rather than an Apple logo and the letters tv on the top of the box, there is now just an Apple logo.
Apple
2022 Apple TV 4K: Specs
There are improvements to the specs inside the 2022 Apple TV 4K. There are also some key differences between the two models.
Apple TV 4K 2022: A15 Bionic, 64GB SSD, Wi-Fi
Apple TV 4K 2022: A15 Bionic. 128GB SSD, Wi-Fi & Ethernet
Apple TV 4K 2021: A12 Bionic, 32GB or 64GB SSD, Wi-Fi & Ethernet
Processor
The 2021 Apple TV 4K has an A12 Bionic chip, the new model gets an update to the A15.
The A15 was first introduced with the iPhone 13 in 2021. The A12 dates back to the iPhone XS, so that's a pretty large leap in terms of the technology inside.
Capacity
There is a new top capacity of 128GB for the new model and 64GB is now available for the entry-level option.
Whether you will even use this storage space will depend on what you use your Apple TV for. MOst of the media you watch, or listen to, via the Apple TV will be streamed. If you will only be streaming then you won't need 128GB storage.
However, you can download media, games and various apps from the Apple TV store, so if you plan to use your Apple TV as a games console we recommend considering how much storage you'll need.
There have been rumours that Apple will launch a games console, which may very well be an iteration of the Apple TV. Read about Apple's plans to launch a games console as part of the Apple TV.
Connectivity
Another clear difference is the lack of an Ethernet option at the new entry-level (despite this previously being available).
The lack of Ethernet port may be an issue for those who have flakey Wi-Fi in their home because one way to avoid connection drop outs while you are watching your favourite show is to plug it directly into the router via ethernet. If you think you might need to do this then the WiFi & Ethernet Apple TV will be the one for you.
Other than that the connectivity options haven't changed significantly. It's still 802.11ax Wi‑Fi 6 with MIMO, as it was in 2021, but it's now 2×2 MIMO, which relates to the number of streams – in other words there are two data streams. In 2021 the Apple TV 4K supported simultaneous dual band at 2.4GHz and 5GHz. We're intrigued to see if this makes any difference.
The Thread mesh networking protocol is still supported for connecting smart home accessories.
Video & audio formats
There is no change to the audio formats which include support for Apple Lossless, Dolby Atmos and more. However, there are a few changes to the video formats supported.
There is now support for HDR10+ and SDR video with AVC/HEVC (Main/Main 10 profile) up to 2160p, 60 fps.