Superguides
The Macworld Superguide series offers thorough reference guides to help you learn about specific topics. These books are produced by the Macworld staff and are packed with practical how-tos, in-depth features, tips and tricks, and more.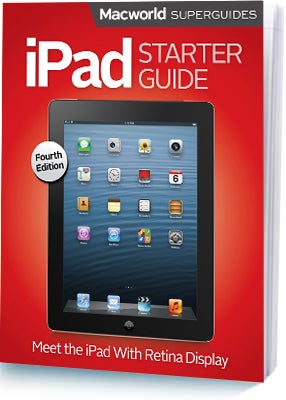 Superguide
iPad Starter Guide, Fourth Edition
Apple surprised everyone-even Macworld-when it released a fully souped-up fourth-generation iPad just six months after its predecessor. Not to be caught in the dust, our Superguide team went to work updating our third-generation iPad book, and now we're proud to present the fourth edition of our iPad Starter Guide.
| | |
| --- | --- |
| Publication Date | November 27, 2012 |
| Page Count | 145 |
| Language | English |
iPad Starter Guide, 3rd Edition
| | |
| --- | --- |
| Publication Date | May 13 2011 |
| Page Count | 194 |
| Language | English |
| ISBN/EAN13 | 0984615830 / 9780984615834 |
| Binding Type | US Trade Paper |
| Trim Size | 6.14" x 9.21" |
| Color | Full Color with Bleed |
| Related Categories | Photography / Reference |
Want to try the book before you buy? Click here to download a 39-page sample! (Control-click on the link and download it to your Mac for viewing in Preview or Adobe/Acrobat Reader.)
About This Superguide:
If you're giving the gift of iPad this holiday season, or awaiting its arrival on your own doorstep, the editors at Macworld are the perfect people to help you get to know your new device with our iPad Starter Guide. Totally new to the iPad and not sure where to begin? Our Starter Guide will introduce you to the device and walk you through the activation process. You'll discover basic gestures for navigating through apps and home screens, and learn some of our favorite iPad tips and tricks.
Maybe you've owned an iPad before, but want to freshen up on the device's features and learn about new iPad additions. We'll walk you through Notification Center, Siri, and iCloud, Apple's syncing service. Learn how to customize your settings to your liking, discover downloadable Apple apps like Find My Friends and Find My iPhone, and find out which third-party apps are worth your time.
Macworld's iPad Starter Guide (Fourth Edition) will be coming soon on the iBookstore, but right now it's available on Amazon's Kindle Store for $2.99. You can also purchase a PDF for $2.99 and a $3.99 bundle of ebooks that you can read on your computer (PDF), iOS device or Nook (ePub), and Kindle (MOBI).
We hope you have fun getting to know your new iPad. If you just picked up an iPad mini, stay tuned for our iPad Mini Starter Guide, coming soon.
If you want to learn more about your other iOS devices, make sure to check out our available Superguides including our iPhone 5 Starter Guide, our iOS 6 Upgrade Guide, and Master iPhone Photography. Looking for Mac and OS X books? We also sell our Total Mountain Lion Superguide, Mac Basics, Mountain Lion, and Mac Gems, Mountain Lion edition.