Superguides
The Macworld Superguide series offers thorough reference guides to help you learn about specific topics. These books are produced by the Macworld staff and are packed with practical how-tos, in-depth features, tips and tricks, and more.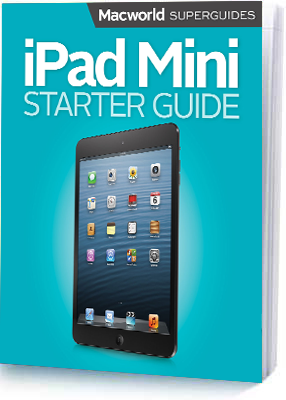 Superguide
iPad Mini Starter Guide
Whether you already have Apple's new iPad mini in hand, are anxiously awaiting its arrival at your doorstep, or are considering purchasing Apple's latest tablet, let the editors at Macworld help you with our iPad Mini Starter Guide. It covers everything you need to know to get up and running with your new iPad.
| | |
| --- | --- |
| Publication Date | December 5, 2012 |
| Page Count | 151 |
| Language | English |
iPad Starter Guide, 3rd Edition
| | |
| --- | --- |
| Publication Date | May 13 2011 |
| Page Count | 194 |
| Language | English |
| ISBN/EAN13 | 0984615830 / 9780984615834 |
| Binding Type | US Trade Paper |
| Trim Size | 6.14" x 9.21" |
| Color | Full Color with Bleed |
| Related Categories | Photography / Reference |
Nobody spends more time with Apple's computers and software than the writers and editors at Macworld, the world's foremost Mac authority in print and on the Web.
Every year Macworld publishes huge amounts of photo-related advice including tips for shooting, managing, editing, and printing digital photos. Now this wealth of information is available all in one place, updated for iPhoto '11 and organized in an easy-to-follow guide.
The Digital Photography Superguide is bursting with the latest insight and advice for every aspect of digital photography on the Mac. If you're shopping for a new camera, you'll find useful, up-to-date guidelines for picking the right one for your needs. Once you have a camera, this book will help you take better pictures with shooting tips and tricks from professional photographers.
As your photo collection grows, use this book to stay organized and to help bring out the best in your images with iPhoto '11, Apple's excellent photo manager and editor. We'll show you how to take advantage of the newest features, including face recognition and GPS support. We've also got tips to help you print your pictures yourself, scan old negatives and slides, get the best results from an online photo service, and have fun with Web galleries and more. You'll also learn the best ways to back up your photos so you don't ever lose precious memories. If you love seeing what your digital camera and Mac can do together, this is the book for you.
Want to try the book before you buy? Click here to download a 34-page sample! (Control-click on the link and download it to your Mac for viewing in Preview or Adobe/Acrobat Reader.)
About This Superguide:
Totally new to iOS and not sure where to begin? Our Starter Guide will introduce you to the iPad mini and walk you through the activation process. You'll discover basic gestures for navigating through apps and home screens, and learn some of our favorite tips and tricks. Maybe you've owned an iPad before, but want to freshen up on the device's features and learn about new iPad mini additions. We'll walk you through Notification Center, Siri, and iCloud, Apple's syncing service.
We'll also help you customize your settings to your liking, discover downloadable Apple apps like Find My Friends and Find My iPhone, and find out which third-party apps are worth your time.