Superguides
The Macworld Superguide series offers thorough reference guides to help you learn about specific topics. These books are produced by the Macworld staff and are packed with practical how-tos, in-depth features, tips and tricks, and more.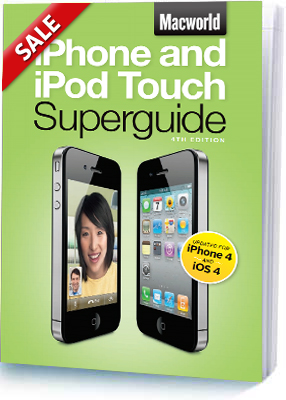 Superguide
iPhone and iPod Touch Superguide - Fourth Edition - On Sale!
Do you own an iPhone or iPod touch? Plan on buying one for your significant other, parents, or favorite aunt for the holidays? Maybe you're just hoping Santa got your letter and leaves a shiny new device in your stocking.
| | |
| --- | --- |
| Publication Date | November 18, 2010 |
| Page Count | 174 |
| Language | English |
iPad Starter Guide, 3rd Edition
| | |
| --- | --- |
| Publication Date | May 13 2011 |
| Page Count | 194 |
| Language | English |
| ISBN/EAN13 | 0984615830 / 9780984615834 |
| Binding Type | US Trade Paper |
| Trim Size | 6.14" x 9.21" |
| Color | Full Color with Bleed |
| Related Categories | Photography / Reference |
Nobody spends more time with Apple's computers and software than the writers and editors at Macworld, the world's foremost Mac authority in print and on the Web.
Every year Macworld publishes huge amounts of photo-related advice including tips for shooting, managing, editing, and printing digital photos. Now this wealth of information is available all in one place, updated for iPhoto '11 and organized in an easy-to-follow guide.
The Digital Photography Superguide is bursting with the latest insight and advice for every aspect of digital photography on the Mac. If you're shopping for a new camera, you'll find useful, up-to-date guidelines for picking the right one for your needs. Once you have a camera, this book will help you take better pictures with shooting tips and tricks from professional photographers.
As your photo collection grows, use this book to stay organized and to help bring out the best in your images with iPhoto '11, Apple's excellent photo manager and editor. We'll show you how to take advantage of the newest features, including face recognition and GPS support. We've also got tips to help you print your pictures yourself, scan old negatives and slides, get the best results from an online photo service, and have fun with Web galleries and more. You'll also learn the best ways to back up your photos so you don't ever lose precious memories. If you love seeing what your digital camera and Mac can do together, this is the book for you.
Want to try the book before you buy? Click here to download a 34-page sample! (Control-click on the link and download it to your Mac for viewing in Preview or Adobe/Acrobat Reader.)
About This Superguide:
iPhone and iPod touch users of all stripes will be able to get more out of their devices with our latest Superguide, a freshly updated fourth edition of Macworld's iPhone and iPod Touch Superguide, now available on Apple's iBookstore, and as a PDF.

This books covers the latest updates to the iPhone and iPod touch product line, including iOS 4, the iPhone 4, and the fourth-generation iPod touch models. And if we do say so ourselves, we think it's a great gift to give to someone who's just starting out with the iPhone or iPod touch.

In this 174-page book, we cover the basics - such as setting up a new iPhone and downloading apps - and then dive into the details. We'll show you how to sync, video chat, set up e-mail, set up your media library, fill your device up with music and movies, and more.

The book also has our recommendations for must-have third-party apps, advice on how to troubleshoot your iPhone or iPod touch and fix common problems, and even recommendations for the best cases, headphones, speakers, and other accessories.

The iPhone and iPod Touch Superguide, Fourth Edition is available in several formats, so you can choose the one that works best for you. If you'd like to access to the book from your iPhone, iPod touch, or iPad, you can download it from Apple's iBookstore for $7.99 (you must be on an iOS device to access the iBookstore). If you'd like to read the book on your Mac or want to have a designed book for printing, look to our PDF version, available for immediate download for just $7.99. The colorful PDF also looks great on an iPhone, iPod, or iPad screen.

Not convinced? If you want to see more before you commit, we've created a downloadable sample PDF that includes the book's complete table of contents as well as sample pages.

Be sure to check out the other books in our popular Superguide series, including Mac Troubleshooting, Mac Basics, Total Snow Leopard, and a collection of the greatest OS X Hints.

We hope you enjoy our Superguide. If you're looking for more help with OS X, iOS, and all things Apple, make sure to check out our other Superguides, including Mac Gems Superguide, iPhone Photography Superguide, iPad Superguide, and iPhone 4S Superguide.