Superguides
The Macworld Superguide series offers thorough reference guides to help you learn about specific topics. These books are produced by the Macworld staff and are packed with practical how-tos, in-depth features, tips and tricks, and more.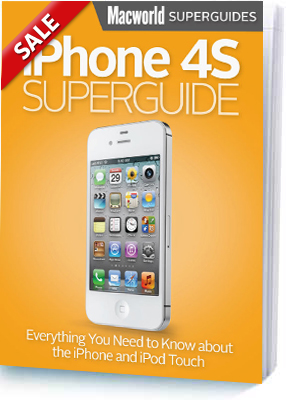 Superguide
iPhone 4S - On Sale!
Activate, customize, and navigate your iPhone. Meet Siri, your new voice assistant. Connect with friends using iMessage, FaceTime, and email. Organize your life with Apple's productivity apps. Watch, read, play, and listen to your media collection. Find solutions for common troubleshooting issues. Enhance your iPhone with the latest accessories.
| | |
| --- | --- |
| Publication Date | December 13, 2011 |
| Page Count | 268 |
| Language | English |
iPad Starter Guide, 3rd Edition
| | |
| --- | --- |
| Publication Date | May 13 2011 |
| Page Count | 194 |
| Language | English |
| ISBN/EAN13 | 0984615830 / 9780984615834 |
| Binding Type | US Trade Paper |
| Trim Size | 6.14" x 9.21" |
| Color | Full Color with Bleed |
| Related Categories | Photography / Reference |
Nobody spends more time with Apple's computers and software than the writers and editors at Macworld, the world's foremost Mac authority in print and on the Web.
Every year Macworld publishes huge amounts of photo-related advice including tips for shooting, managing, editing, and printing digital photos. Now this wealth of information is available all in one place, updated for iPhoto '11 and organized in an easy-to-follow guide.
The Digital Photography Superguide is bursting with the latest insight and advice for every aspect of digital photography on the Mac. If you're shopping for a new camera, you'll find useful, up-to-date guidelines for picking the right one for your needs. Once you have a camera, this book will help you take better pictures with shooting tips and tricks from professional photographers.
As your photo collection grows, use this book to stay organized and to help bring out the best in your images with iPhoto '11, Apple's excellent photo manager and editor. We'll show you how to take advantage of the newest features, including face recognition and GPS support. We've also got tips to help you print your pictures yourself, scan old negatives and slides, get the best results from an online photo service, and have fun with Web galleries and more. You'll also learn the best ways to back up your photos so you don't ever lose precious memories. If you love seeing what your digital camera and Mac can do together, this is the book for you.
Want to try the book before you buy? Click here to download a 34-page sample! (Control-click on the link and download it to your Mac for viewing in Preview or Adobe/Acrobat Reader.)
About This Superguide:
Macworld's iPhone 4S Superguide (the 35th book in our Superguide series) offers in-depth explanations, how-tos, tips, tricks, and troubleshooting for any iPhone-obsessed user in your life.

Currently, we're offering our iPhone 4S Superguide exclusively online, as an iBook or Kindle book, PDF/ePub bundle, or PDF on CD.

Inside this book, you'll find a complete rundown of how to use your iPhone to communicate, be productive, and enjoy multimedia. If you're not sure where to start, don't worry, because our full-featured guide offers some nice tips for beginners: Take a tour of the iPhone and learn how to activate it; tweak each one of your device's settings; discover basic gestures for navigating through apps and home screens; and learn about some of our favorite tips and tricks. And don't forget to meet your new personal voice assistant, Siri, and explore iCloud, Apple's sync service.

Once you've gotten everything set up, it's time to download some third-party apps and explore what your iPhone has to offer. Connect with friends and family using the Phone app, iMessage, and FaceTime; get online using 3G or Wi-Fi; secure your connection via a VPN; browse the Web and email coworkers; and navigate the world with the Maps app and GPS.
You can further organize your life with included Apple apps like Calendar, Notes, and Reminders, and expand your work productivity with Apple's iWork office suite or other third-party apps. When you've finished a project, learn how to export it to a cloud service like Dropbox or print it out.

More interested in the multimedia side of your iPhone? Check out our chapter on syncing your music, videos, podcasts, TV shows, and apps. You can also play games with friends by using Apple's Game Center, read books with iBooks, and make movie and musical masterpieces with iMovie and GarageBand, respectively.

If you run into trouble, never fear: Our troubleshooting tips will keep your iPhone sailing smooth. And in case you're stumped on how to best outfit your device, we provide suggestions for great iPhone 4S cases, headphones, speakers, and more.

You can read the book right away on nearly any device, by getting our PDF/ePub bundle for $8.99. You can read our iPhone 4S Superguide right away on an iOS device by purchasing it from Apple's iBookstore for $7.99. If you prefer reading on a Kindle, or through one of Amazon's desktop or iOS apps, we also have the book available on the Kindle Store for the same price. If you prefer to get the book without downloading it, try our PDF/ePub bundle on CD, available for $14.95.

Want to take a peek at the book before you purchase anything? You can either check out a free sample from the iBookstore, or download our free iPhone 4S Starter Guide, which contains material from the first chapter of our iPhone 4S Superguide, "Get Started."

Check out our other books in our Superguide series: Total Lion, iPad 2, Digital Photography, Mac Troubleshooting, Switching to the Mac, and our iBookstore-exclusive titles 100 Things Every Mac User Should Know and the iOS 5 Upgrade Guide.
We hope you enjoy our Superguide. If you're looking for more help with OS X, iOS, and all things Apple, make sure to check out our other Superguides, including Mac Gems Superguide, iPhone Photography Superguide, iPad Superguide, and iPhone 4S Superguide.