Superguides
The Macworld Superguide series offers thorough reference guides to help you learn about specific topics. These books are produced by the Macworld staff and are packed with practical how-tos, in-depth features, tips and tricks, and more.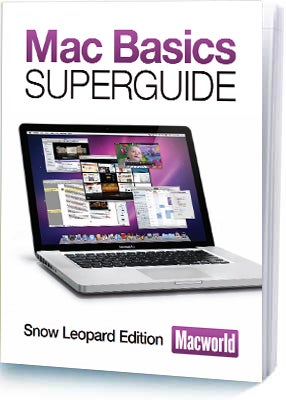 Superguide
Mac Basics - Snow Leopard Edition
Need a crash course in the basics of operating and working with your Snow Leopard Mac? This 126-page guide will help teach you the ins and outs to get you up to speed and computing like a pro.
| | |
| --- | --- |
| Publication Date | December 7, 2009 |
| Page Count | 128 |
| Language | English |
iPad Starter Guide, 3rd Edition
| | |
| --- | --- |
| Publication Date | May 13 2011 |
| Page Count | 194 |
| Language | English |
| ISBN/EAN13 | 0984615830 / 9780984615834 |
| Binding Type | US Trade Paper |
| Trim Size | 6.14" x 9.21" |
| Color | Full Color with Bleed |
| Related Categories | Photography / Reference |
Nobody spends more time with Apple's computers and software than the writers and editors at Macworld, the world's foremost Mac authority in print and on the Web.
Every year Macworld publishes huge amounts of photo-related advice including tips for shooting, managing, editing, and printing digital photos. Now this wealth of information is available all in one place, updated for iPhoto '11 and organized in an easy-to-follow guide.
The Digital Photography Superguide is bursting with the latest insight and advice for every aspect of digital photography on the Mac. If you're shopping for a new camera, you'll find useful, up-to-date guidelines for picking the right one for your needs. Once you have a camera, this book will help you take better pictures with shooting tips and tricks from professional photographers.
As your photo collection grows, use this book to stay organized and to help bring out the best in your images with iPhoto '11, Apple's excellent photo manager and editor. We'll show you how to take advantage of the newest features, including face recognition and GPS support. We've also got tips to help you print your pictures yourself, scan old negatives and slides, get the best results from an online photo service, and have fun with Web galleries and more. You'll also learn the best ways to back up your photos so you don't ever lose precious memories. If you love seeing what your digital camera and Mac can do together, this is the book for you.
Want to try the book before you buy? Click here to download a 34-page sample! (Control-click on the link and download it to your Mac for viewing in Preview or Adobe/Acrobat Reader.)
About This Superguide:
The readers of Macworld are amazingly diverse. Among our audience are some incredibly tech-savvy folks, and we're glad to have them. There are also some people among us who are relatively novice Mac users, who avidly read what we write in order to flex and improve their Mac skills.
For the past few years we've offered a book, the Mac Basics Superguide, that's been a hit with both audiences. And I'm happy to announce that we've just updated that book for Snow Leopard. If you're someone who's struggling with the basics of operating a Mac, or someone who's a new user of Mac OS X (perhaps you've made the switch from Windows to Mac) this new 126-page guide will get you up to speed.
Written in an easy-to-follow style, the Mac Basics Superguide, Snow Leopard Edition will give you detailed tips and information about using the Finder and the Dock, switching between programs, using Apple's Spotlight search tool, opening and saving your files, and setting up system preferences and user accounts. We've tossed in some basic security and troubleshooting advice to keep your Mac up and running smoothly. And our own Dan Frakes, who pens our Mac Gems blog and magazine column, has assembled a list of 20 great low-cost programs that will enhance your Mac experience.
But I said this book was for the Mac experts among us, too. Here's what I mean by that: It's the book you give to the people you know who need a leg up on using their Mac-all of your friends and family members who use you as the be-all, end-all Mac resource. The reality is, a Mac expert can only be in one place at any given time. This book-available as a $12.95 PDF download (with no digital rights management of any kind-just read it using Adobe Reader, Apple's Preview application, or even Quick Look!), or a $12.95 PDF on CD-ROM, or a beautiful $24.99 full-color, bound paperback book-can always be around as a handy reference when there's no flesh-and-blood expert nearby. (I sent my mom a copy of the first edition of this book, and I like to think it's reduced the number of questions she asks of me.)
You Mac experts out there might also appreciate the writers who contributed to this book: Christopher Breen, Dan Frakes, Glenn Fleishman, Rob Griffiths, Joe Kissell, Ted Landau, Harry McCracken, and Kirk McElhearn.
Want to see more before you shell out for this book? We've created a downloadable sample that includes the book's complete table of contents as well as sample pages.
And yes, if you or your loved ones is still using Tiger or Leopard, we've still got the previous versions of those books available.
Also available in our Superguide series are the Digital Photography Superguide, the iPhone and iPod Touch Superguide, and the Mac Security Superguide. We think they're really great books, and we hope you do, too.