Superguides
The Macworld Superguide series offers thorough reference guides to help you learn about specific topics. These books are produced by the Macworld staff and are packed with practical how-tos, in-depth features, tips and tricks, and more.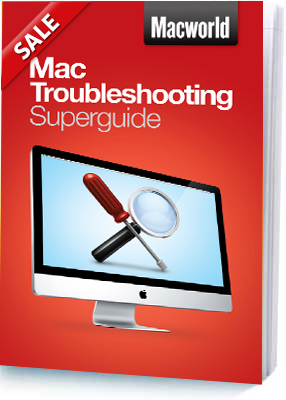 Superguide
Mac Troubleshooting - On Sale!
Macs run smoothly most of the time. This book will prepare you for the rare occasions when yours doesn't. Whether you're using an iMac, MacBook, or Macbook Air, our Superguide is filled with solutions for many of the common problems that you might run into.
| | |
| --- | --- |
| Publication Date | May 6, 2010 |
| Page Count | 122 |
| Language | English |
iPad Starter Guide, 3rd Edition
| | |
| --- | --- |
| Publication Date | May 13 2011 |
| Page Count | 194 |
| Language | English |
| ISBN/EAN13 | 0984615830 / 9780984615834 |
| Binding Type | US Trade Paper |
| Trim Size | 6.14" x 9.21" |
| Color | Full Color with Bleed |
| Related Categories | Photography / Reference |
Nobody spends more time with Apple's computers and software than the writers and editors at Macworld, the world's foremost Mac authority in print and on the Web.
Every year Macworld publishes huge amounts of photo-related advice including tips for shooting, managing, editing, and printing digital photos. Now this wealth of information is available all in one place, updated for iPhoto '11 and organized in an easy-to-follow guide.
The Digital Photography Superguide is bursting with the latest insight and advice for every aspect of digital photography on the Mac. If you're shopping for a new camera, you'll find useful, up-to-date guidelines for picking the right one for your needs. Once you have a camera, this book will help you take better pictures with shooting tips and tricks from professional photographers.
As your photo collection grows, use this book to stay organized and to help bring out the best in your images with iPhoto '11, Apple's excellent photo manager and editor. We'll show you how to take advantage of the newest features, including face recognition and GPS support. We've also got tips to help you print your pictures yourself, scan old negatives and slides, get the best results from an online photo service, and have fun with Web galleries and more. You'll also learn the best ways to back up your photos so you don't ever lose precious memories. If you love seeing what your digital camera and Mac can do together, this is the book for you.
Want to try the book before you buy? Click here to download a 34-page sample! (Control-click on the link and download it to your Mac for viewing in Preview or Adobe/Acrobat Reader.)
About This Superguide:
In the United States, when you're in real trouble you have but one number to call: 911. Back in 2000, while we were racking our brains for a title for Macworld's tips and troubleshooting column, we invoked this emergency calling code, preceding it with "Mac" so that its humble author (me) wouldn't be additionally inundated with requests for help with small appliances and domestic disputes. Thus Mac 911became the primary place to go within Macworld's pages for help with all things Apple.

We've distilled the Mac troubleshooting knowledge we've acquired over the past 10 years of putting together columns, and created the Mac Troubleshooting Superguide, the latest in Macworld's popular Superguide series.

Since the Mac 911 column's birth, we've seen the death (OS 9) and rebirth (OS X) of the Mac OS, the coming and going of countless Mac models, and the explosion of the Internet. We've also witnessed the metamorphosis of Apple the computer company into Apple the media and telecommunications giant, responsible for two of the most game-changing products of the young century, the iPod and iPhone. Yet through all these changes, one constant remains: the desktops and laptops that we increasingly rely on for our work and pleasure sometimes act up in frustrating ways.

Fortunately, as exasperating as these hiccups may be, they are often predictable. In this guide, we attempt to present the difficulties you might encounter in the order in which you're likely to encounter them. If, for example, something goes amiss as you're installing the latest greatest version of OS X, you can be assured that you'll find it in the first chapter, Installation. If, later in the day, you press your Mac's power button and nothing good results, you'll find help in the next chapter, which addresses start-up issues, crashes, and freezes. Have a problem with hardware next? Simply page on to Hardware Help. And so on through the System Issues & Fixes, OS X's Applications, the Internet & Networking, and Mac Maintenance chapters.

And if, despite all of your diligent efforts, no solution is found, there are directions for what to do next in the Support Tricks chapter. But allow me to also extend a personal invitation to Macworld's Mac 911 forum, where I and other knowledgeable Mac users are eager to lend a helping hand.
The book is available in several formats, so you can choose the one that works best for you. If you're interested in a PDF (suitable for viewing in Preview or Adobe Reader), you can buy one and download it immediately for just $7.99. Or, get it from the iBookstore, also for the new price of $7.99.

Want to see more before you shell out for this book? We've created a downloadable sample that includes the book's complete table of contents as well as some sample pages.
Most of the time your Mac should run smoothly. This book will prepare you for the rare occasions when it doesn't.

We hope you enjoy our Superguide. If you're looking for more help with OS X, iOS, and all things Apple, make sure to check out our other Superguides, including Mac Gems Superguide, iPhone Photography Superguide, iPad Superguide, and iPhone 4S Superguide.