Superguides
The Macworld Superguide series offers thorough reference guides to help you learn about specific topics. These books are produced by the Macworld staff and are packed with practical how-tos, in-depth features, tips and tricks, and more.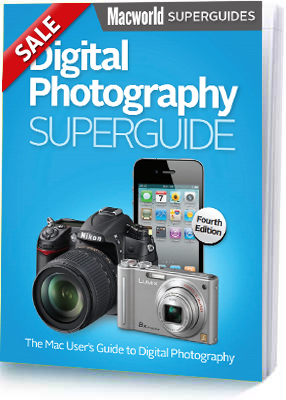 Superguide
Digital Photography Superguide - Fourth Edition - On Sale!
Research digital cameras and accessories. Improve your photography workflow. Manage images on your Mac or on the go. Edit and tweak your pictures to perfection. Print, share, and display photos to the world. Protect your images from disaster.
| | |
| --- | --- |
| Publication Date | May 18, 2011 |
| Page Count | 196 |
| Language | English |
iPad Starter Guide, 3rd Edition
| | |
| --- | --- |
| Publication Date | May 13 2011 |
| Page Count | 194 |
| Language | English |
| ISBN/EAN13 | 0984615830 / 9780984615834 |
| Binding Type | US Trade Paper |
| Trim Size | 6.14" x 9.21" |
| Color | Full Color with Bleed |
| Related Categories | Photography / Reference |
Nobody spends more time with Apple's computers and software than the writers and editors at Macworld, the world's foremost Mac authority in print and on the Web.
Every year Macworld publishes huge amounts of photo-related advice including tips for shooting, managing, editing, and printing digital photos. Now this wealth of information is available all in one place, updated for iPhoto '11 and organized in an easy-to-follow guide.
The Digital Photography Superguide is bursting with the latest insight and advice for every aspect of digital photography on the Mac. If you're shopping for a new camera, you'll find useful, up-to-date guidelines for picking the right one for your needs. Once you have a camera, this book will help you take better pictures with shooting tips and tricks from professional photographers.
As your photo collection grows, use this book to stay organized and to help bring out the best in your images with iPhoto '11, Apple's excellent photo manager and editor. We'll show you how to take advantage of the newest features, including face recognition and GPS support. We've also got tips to help you print your pictures yourself, scan old negatives and slides, get the best results from an online photo service, and have fun with Web galleries and more. You'll also learn the best ways to back up your photos so you don't ever lose precious memories. If you love seeing what your digital camera and Mac can do together, this is the book for you.
Want to try the book before you buy? Click here to download a 34-page sample! (Control-click on the link and download it to your Mac for viewing in Preview or Adobe/Acrobat Reader.)
About This Superguide:
For all the work camera companies have put into making their cameras as easy to use as possible, many people still find the process of getting a good shot shrouded in mystery. Add in the camera capabilities of most modern smartphones, and it's easy to get quickly overwhelmed by all the possibilities. Enter Macworld's Digital Photography Superguide, fourth edition, for all your photographic needs.

While Macworld regularly features photography tips and how-to articles, we know that digging back through all of those stories can be a hassle, if not impossible.
For readers who want all the information in one place, we're pleased to present our Digital Photography Superguide.In the fourth edition of our popular photography book, we offer the latest advice on buying a new camera; getting great shots; managing and editing your growing photo library with desktop applications like iPhoto '11, Aperture, and Photoshop Elements; and much more. We've even included a special section on iPhone photography for any budding iPhone-ographers out there. The information has been updated and expanded to cover all the latest developments in digital photography, and we've organized it in this easy-to-follow guide for beginners and pros alike.

In this 196-page book, you'll learn about the entire photography process: We'll walk you through purchasing the digital camera that's right for you; shooting in difficult situations; importing photos quickly and safely; managing your image collection by adding valuable information like names, locations, and ratings; and sharing your photographs with the world by taking advantage of both print products and online services. We'll also explain how to protect your photos from hard-drive disasters.

If you've been wishing you knew more about your camera, or you feel overwhelmed by your photo library and aren't sure where to turn, this book can help.
The Digital Photography Superguide, fourth edition comes in four convenient formats-just choose the one that works best for you.

Get our book in every format, with our ePub/MOBI/PDF bundle, (available at the new low price of $8.99) and read it on nearly any device. If you'd like to read the book immediately on your Kindle or through the Kindle app, look no further than our Kindle version, available for just $7.99 from our online Web store.

If you'd rather bypass your Mac altogether, you can buy the Superguide directly on your iPhone, iPod touch, or iPad from Apple's iBookstore for $7.99. (Please note that currently you can only buy books from the iBookstore on your iOS device; if you open this link on a computer, it will just bring you to an overview of the book with no option to purchase it.)
Finally, if you'd like to give the PDF version of this book as a gift, you can have it mailed to you on a CD-ROM for $14.95.

Not convinced? If you want to see more before you commit, we've created a downloadable sample PDF that includes the book's complete table of contents and selected pages.
Be sure to check out the other books in our popular Superguideseries: iPad, iPhone and iPod Touch, Mac Troubleshooting, Mac Basics, and Mac OS X Hints.